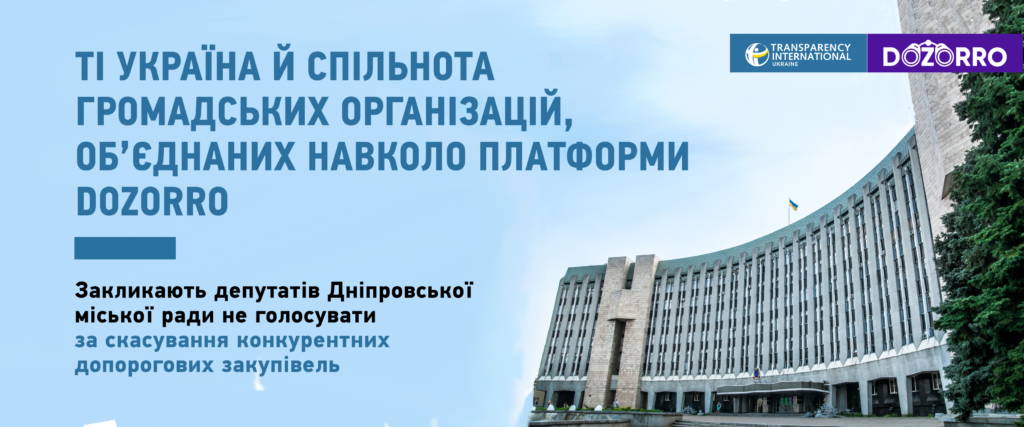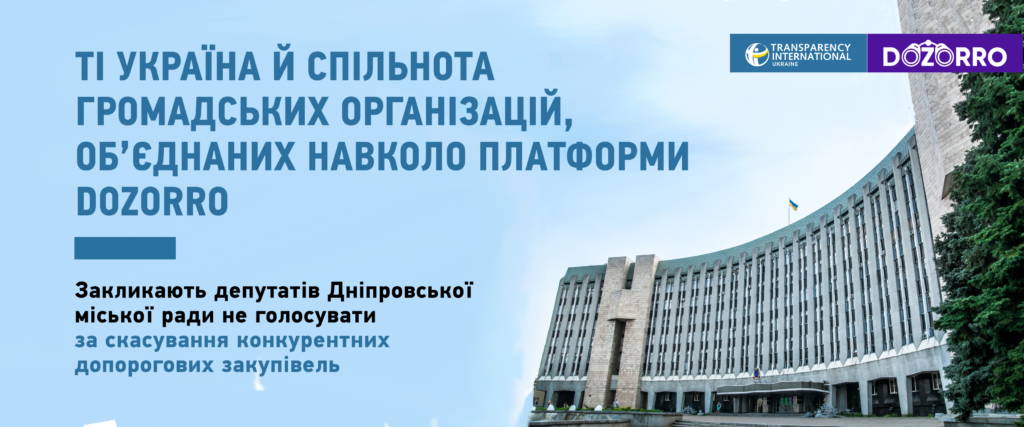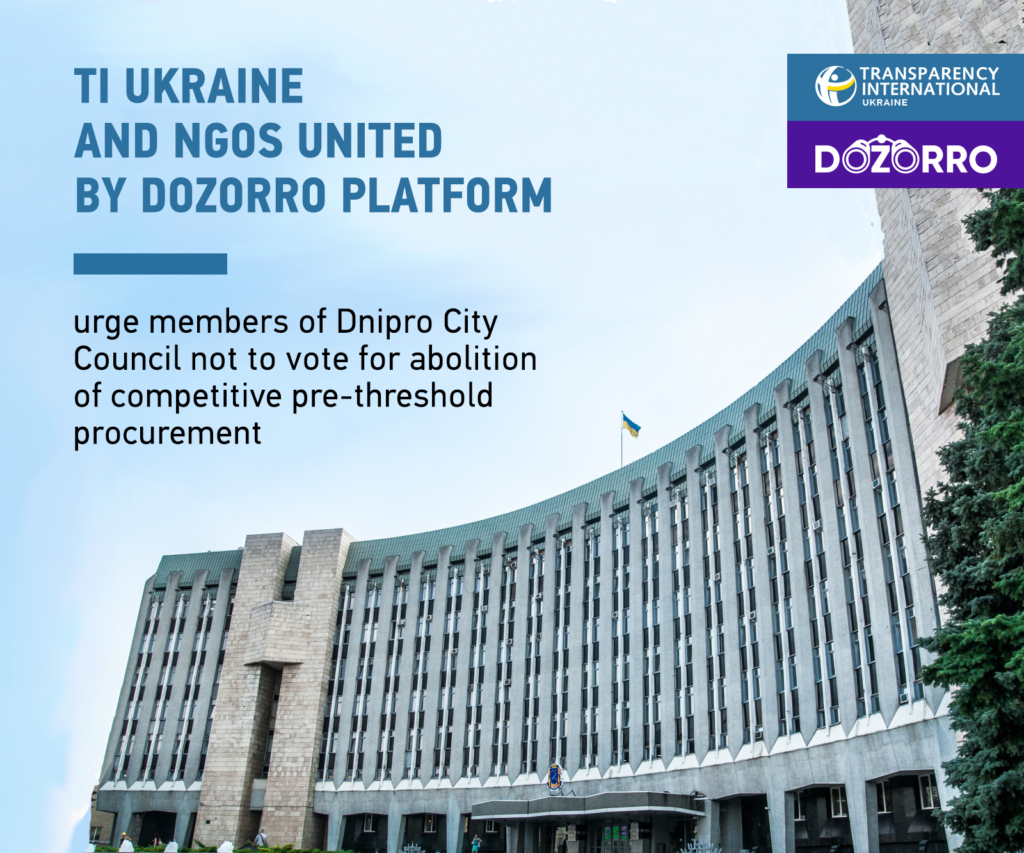 The Ukrainian chapter of the global anti-corruption network Transparency International and the community of civil society organizations united around the DOZORRO platform urge the members of Dnipro city council not to vote for abolition of competitive pre-threshold procurement.
On May 23 the issue of abolition of the decision on obligatory use of the electronic public procurement system ProZorro for pre-threshold procurement under UAH 3000 was proposed for consideration.
If passed, the decision entails the city risking to lose tens of millions of hryvnias every year, since it is precisely due to competitive pre-threshold procurement that Dnipro managed to save UAH 24.5 mln during the first five months of 2018 and over UAH 116 mln for 2016-2017.
The public procurement system ProZorro aims at creating equal, transparent and fair rules for all representatives of business who wish to participate in procurement and creates possibilities for city development, improves its transparency and investment attractiveness.
What can Dnipro lose if competitive pre-threshold procurement is abolished?
Economy. Pre-threshold procurement was introduced with the aim to provide public institutions with goods, works and services involving the maximum number of representatives of business. Competition allows the territorial hromada to use the funds efficiently, since non-competitive procurement often entails inflated prices.
Development of Local Business. Pre-threshold procurement provides small and medium business with development opportunities by enabling it to participate in tenders and win public procurement bidding.
Control and Management. Pre-threshold procurement done with the use of the electronic procurement system ProZorro ensures transparent use of municipal funds through open access to all information concerning the procurement. It allows to execute instant governmental and civic monitoring of procurement and to prevent corruption in this sector.
Transparency. Lately, the city has significantly improved its score in the nationwide city transparency index and currently ranks 19th. Abolition of competitive pre-threshold procurement may derail the city's effort to be more transparent and increase its investment attractiveness.
We urge members of Dnipro city council to vote against this abolition. It will ensure that the municipal funds are used efficiently, open up new opportunities for small and medium business and mitigate corruption risks.
The appeal is joined by:
Transparency International Ukraine
Center for Civic Monitoring and Research
Media Investigation Center "Prozoro"
CSO "Kryvyi Rih Investigation Center"
CSO "Institute for Analysis and Advocacy"
CSO "Anti-Corruption Headquarters"
CSO "Regional Development Office"
CSO "Women's Anti-Corruption Movement"
CSO "Public Procurement Development"
CSO "Anti-Corruption Platform"
CSO "Railway Without Corruption"