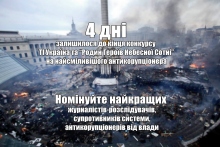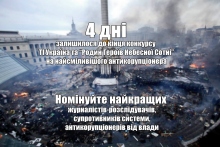 Transparency International Ukraine and the civil societyorganization «Families of the Heavenly Hundred Heroes»encourage the nomination of corruption fighters for the Hero of Heavenly Hundred Yurii Popravka award. 4 days remainbefore the deadline.
19 candidates have already been nominated. Applications will be accepted up to and including November 25, 2016. After that, a jury comprised of representatives of the Families of the Heavenly Hundred Heroes and Transparency International Ukraine will select the winners across three categories:
1) Investigative Journalism
2) Adversary of the System
3) Corruption fighters (from the Government)
The award ceremony will take place on December 9, during the International Anti-Corruption Day celebration.
The award for the best anti-corruption initiative is named after a Hero of Heavenly Hundred, Yurii Popravka, who was an avid corruption fighter. 19-year-old Yurii was studying remotely at the Faculty of Sociology and Law of the Kiev Polytechnic Institute, and worked at one of the branches of Oschadbank in Kiev. At the beginning of the Revolution of Dignity he was part of the 23rd Hundred of Maidan Self-Defense unit.  Later Yurii joined the 'Right Sector'. In April 2014, Yurii and two companions, went to Sloviansk, where they were captured by terrorists, tortured, and killed. Yurii's body was found, along with his fellow members of the Heroes of the Heavenly Hundred – Volodymyr Rybak from Horlivka and Yurii Diakovskyi from Stryi.
The anti-corruption award named after Yurii Popravka is the best way to honor his memory and to emphasize that his sacrifice was not in vain. The award organizers seek to support active people who cannot live in a corrupt environment and take action to combat it.
If you know examples of this struggle, please submit an application. We look forward to your nominations! Let's make our heroes – our corruption fighters famous!