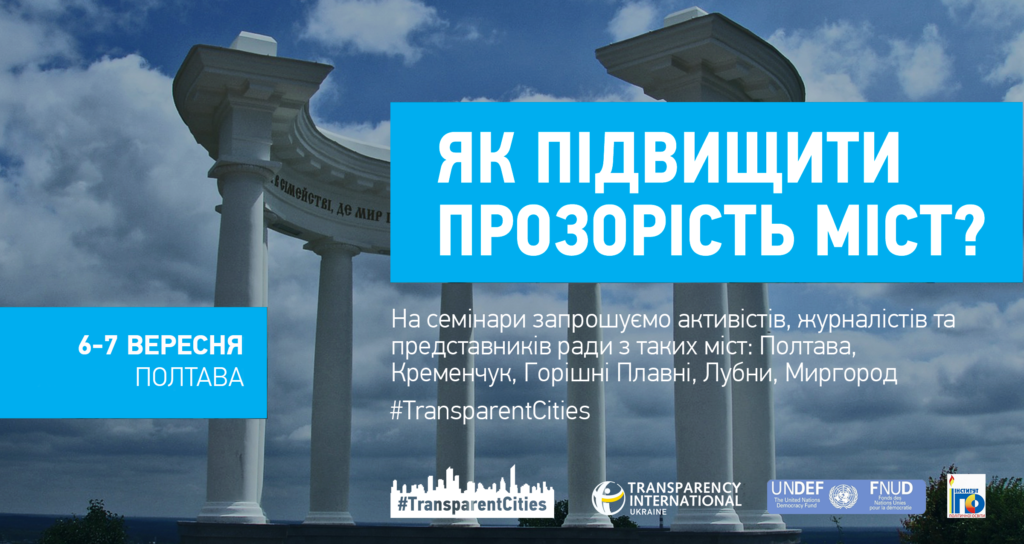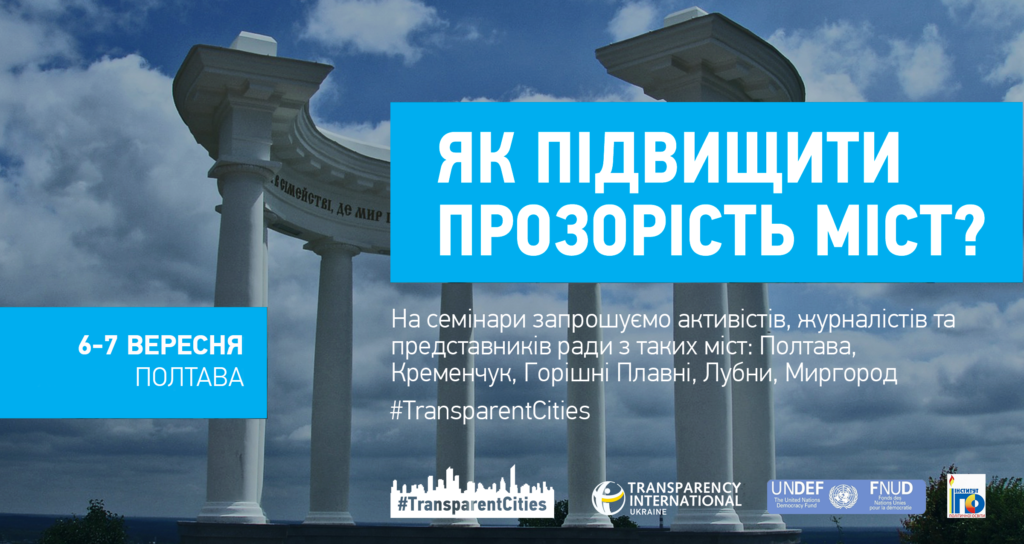 The Ukrainian chapter of the international anti-corruption network Transparency International invites regional journalists, activists and representatives of local authorities to a number of trainings teaching how to increase transparency of cities.
September 6-7, 2017 The training for citizens of the following cities will be held: Poltava, Kremenchuk, Gorynshni Plavni, Lubny, Mirgorod. The event will be held at "Ukraine Hotel" located Poltava, Sobornosti street, 41a. The workshop will last for 2 days.
Experts will share experiences and best practices with participants and teach them how to increase transparency of cities. Particular attention will be paid to such issues as responsibility of the city authorities, especially in those areas in which cities received the lowest number of points.
In June, TI Ukraine and the Institute of Political Education presented a rating of transparency for 100 cities available at transparentcities.in.ua. 13 areas of responsibility of the city government were measured, including information on local authorities, access and participation, procurement, housing policy, budgeting and contracts, grants, funding, social services, HR issues, professional ethics and conflict of interest, information on land use and construction cy, utilities, municipal property and education. Only six cities out of 100 received more than 50 points. Thus, transparency in state agencies in Ukraine leaves a lot to be desired.
The training is for 30 people. Motivation will be the main factor for candidates' selection. Candidates will involve local officials, representatives of local NGOs and journalists. The trainers will be TI Ukraine experts, field experts, and foreign advisors.
We invite you to participate in the training and register following the link below: Http://bit.ly/2vwGLVG.
Deadline: August 30, 10:00.
The organizers are responsible for accommodation, food, trip expenses, required information materials. Activists and journalists participated in the workshop will be notified at least 3 days prior to the event.
For all questions, please contact +38 (098) 231 08 81 Kateryna Tsybenko, the head of the project "Building Transparent Cities in Ukraine."
The training will be held as a part of the project " Building Transparent Cities in Ukraine", supported by the UN Democracy Foundation (UNDEF).