Блог Ярослава Юрчишина, Українська правда
4 years ago, we lived in the country where the corruption was a totally normal thing. In the country where the majority of business just get used to the fact that any problem can be "sorted out." That there are people who control the "streams" everywhere. And everything about the public sales and procurement was a closed area with access only for "the right people." Has the situation changed over the recent years? Yes, definitely.
We have achieved unique results, moreover, unique not only for Ukraine. For example, in the reform of public procurement. And recently, even in the field of public sales, having created the open and efficient system ProZorro.Sales, recognized as the best international anti-corruption project.
On February 27, the online platform of public auctions ProZorro.Sale received the international anti-corruption award as a part of The Shield in the Cloud Innovation Challenge. To take part in this contest, projects should produce a significant anti-corruption effect and set an example for other countries across the world. At the same time, only a year passed from the launch of the project to the receipt of the award. During this time, ProZorro.Sale succeeded in making a dramatic change in the area of public sales.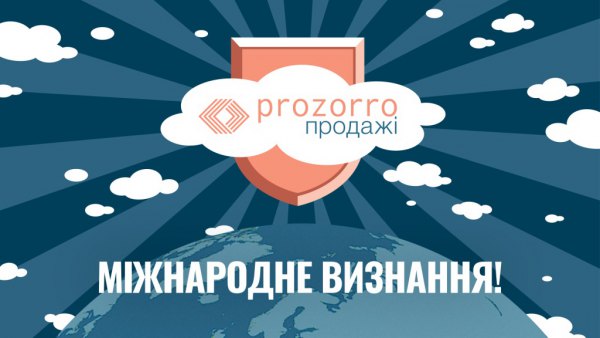 Slightly over a year ago, we launched a pilot project for the sale of assets of insolvent banks, relying on the successful experience of the public procurement system, in conjunction with Deposit Guarantee Fund, the Ministry of Economic Development and Trade of Ukraine and the National Bank of Ukraine. We realized that there wasn't much time, because the assets of insolvent banks get ruined fast and the government (and consequently, depositors) may not receive the compensation.
As of the end of February, sales volume through the system exceeded UAH 6.6 billion. For example, it is more than funds obtained from privatization during last few (!) years. And we speak about very "toxic," "difficult" assets – credit obligations which borrowers had not been paying off for months or even years. This result looks unbelievable, considering a difficult situation in the economy among other things.
What is the secret? That's easy. We created an equal access to assets and opened the information about them as much as possible. We have also created conditions for fair competition: the rules are the same for everyone. It allowed to attract business which previously didn't consider this area as potentially interesting due to the difficulty of access and secrecy. Trust, which is the necessary prerequisite for any social transformation, began to emerge after the first successful auctions.
We moved fast and were flexible, working out procedures and searching for new approaches. As a result, a new, unique auction model has appeared, which combines elements of English and Dutch auctions. This model was developed specifically for sale of very difficult assets, which could not be sold for months. We have already sold more than 1 billion UAH at transparent auctions thanks to this new model. And we are going to sell out the vast majority of toxic bank assets this year.
But this effective platform can be applied not only to the banking sector. We already have cases of sale of rental rights, permits for holding fairs or, for example, placement of advertising on electric transport. It turned out that the government sells a lot of assets – both property and intangible assets, and therefore the potential scope of application of ProZorro.Sale is very wide.
Besides, there is the small privatization. Recently, the President has signed a new law about privatization, according to which the sale of small governmental companies should be done only through ProZorro.Sale. More than 2000 companies all over the country are in this category. I believe that the project team will demonstrate great results in privatization as well.
ProZorro.Sale now has everything that is needed for success. The project is relying on "the golden triangle of partnership": government – business – civil society. We have the support of the Deposit Guarantee Fund, The National Bank and the Ministry for Economic Development and Trade. We also have trust and interest from business. And, finally, we have the attention of the society – reform of public sales remains one of TI Ukraine's main priorities.
We have no illusions on the matter that everything is going to be easy. Last year, we had dozens of court restrictions about auctions. The Fund faced a huge resistance from unscrupulous borrowers. That's why the judicial reform is a crucial part, as is the creation of the Anti-Corruption Court. Nonetheless we are ready for this challenge and we will engage as many society representatives as we can. Because we can overcome corruption only if we are in this together.
It's a huge opportunity for every public activist. Everyone who cares about people's wellbeing. After all, ProZorro.Sale provides tools which control a highly important activity area. But to make the tool useful, you should actually use it first.
We have a tremendous amount of training, travel, publications, investigations ahead of us. I guess I can predict that a lot of violations and manipulations will be disclosed. But we simply don't have another choice. Corruption poisons society stealthily, like an invisible gas. If we want to live in a better country, we should do everything for corruption to become noticeable – and thus, overcome.
We now have even more chances to do it for real. Let's not miss them.
Blog by Yaroslav Yurchyshyn for Ukrainska Pravda