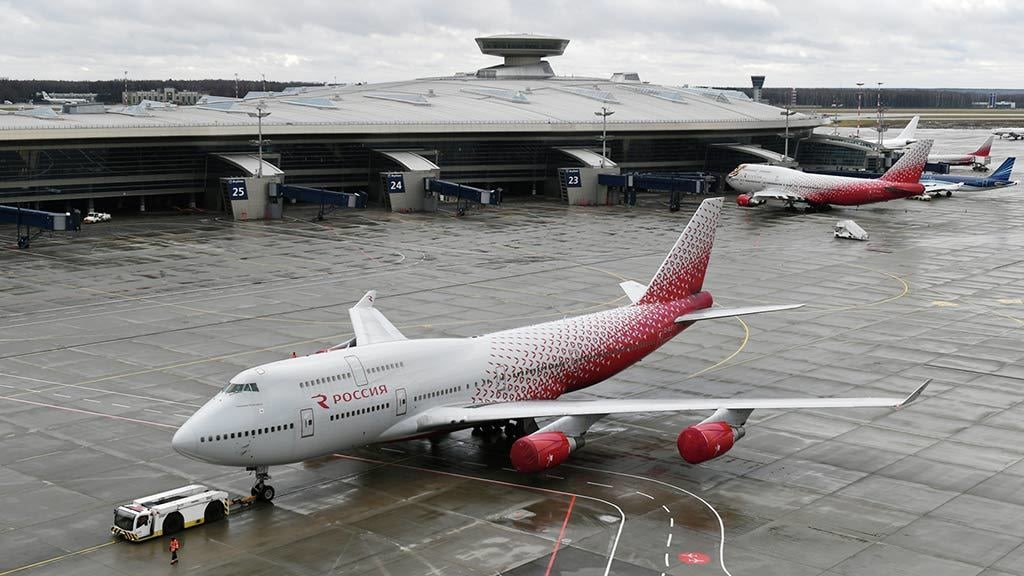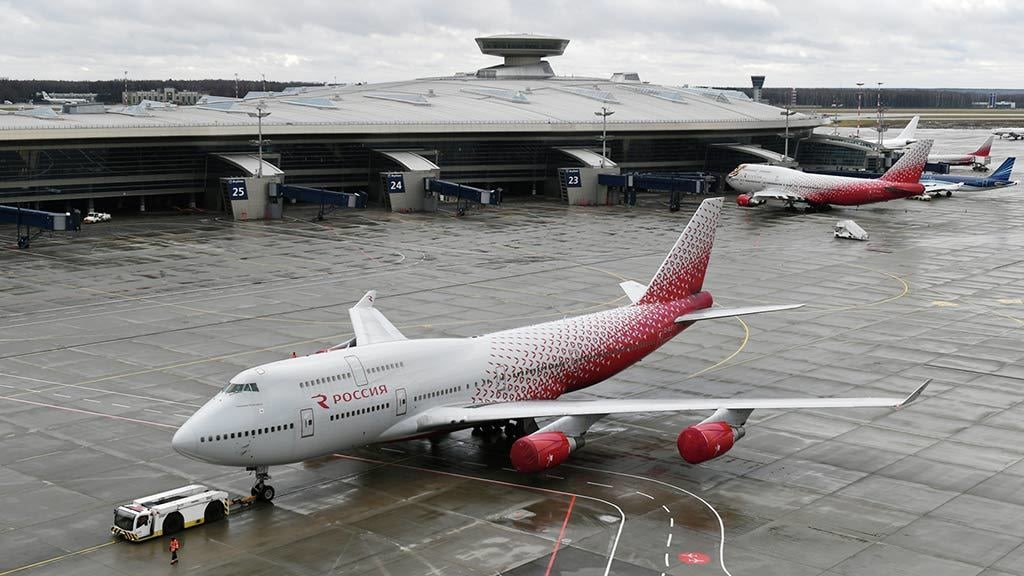 In the war with russia, the US is one of our biggest allies. It supplies weapons, helps with money, and imposes sanctions, in particular — restricts trade with russia. During 2020-2021, the United States was among the top three suppliers to russia (6%), with only China and Germany ahead of them. We investigated what countries were selling to each other, and how their relationship had evolved in the last two years.
From dialogue to critical limit
On June 16, 2021, in Geneva, Joe Biden and vladimir putin met for the first time as presidents. At that time, the russian-American summit was a landmark event — it demonstrated that both countries were interested in a dialogue. Ukraine was also the subject of the it.
Since then, there have been several more meetings in neutral territory — in Finland and Switzerland — and visits by American high-ranking officials to Moscow. "Officials in both countries say that the series of negotiations has so far yielded little in substance, but it helps to prevent tensions in russian-American relations from getting out of control," the New York Times stressed.
However, already at the end of October 2021, a crisis was gradually brewing in the relations between russia and the USA. It was then that a loud information campaign began in the American media about the increasing threat of a russian military invasion of Ukraine. And in January 2022, russia stated that the relationship between the United States and russia had reached the "dangerous critical limit," so, "serious substantive dialogue is urgently needed."
What russia buys from the US
The US accounted for approximately 6% of russia's import structure. In 2020, it was USD 13 bln, in 2021 — USD 17.1 bln.
Hidden (classified) import — 35%
More than a third of the goods that russia buys from the United States is concealed in its customs documents — they are entered under secret codes S, SS, SSSS, etc. According to the UN, the predominant share of classified import from the US is parts and maintenance of Boeing commercial aircraft.
In March 2022, the U.S. Department of Commerce banned the refueling, servicing, repair, and spare parts supply of 99 Boeing aircraft operated by russian passenger and cargo carriers.
Machinery, equipment, and hardware — 19.4%
Every tenth dollar paid in this category went to turbojet and turbo propulsion engines and gas turbines. 5% each accounts for internal combustion engines and centrifuges, equipment for filtering or purifying liquids and gases. More than 4.7% are cranes, valves, gates, parts for them, 4.4% — personal computers, laptops, and components, 3.4% — transmission shafts, bearings, all-gear and bogie drives, gearboxes, 3.1% — telephones and audio and video equipment.
Chemical industry products — 13.8%
Half of the import of this group accounts for pharmaceutical products. Another 11% is essential oils and resinoids; perfume, cosmetics, toiletries.
In addition, it is worth highlighting catalysts for oil refining and petrochemicals. These are chemicals that are used to process oil into fuel, polyethylene, and other matter. In 2019, the share of import among catalysts was more than 80%, among them a third — from the United States. russian authorities have tried to replace foreign chemicals slightly, but russia's own technologies are morally outdated, so, the process is slow and expensive. China, too, is trying to establish their issue, but their catalysts are not yet of sufficient quality.
In the fifth package of sanctions, the European Union banned the export of catalysts to russia. Now experts from one of the Stanford institutes are calling on the United States to do the same.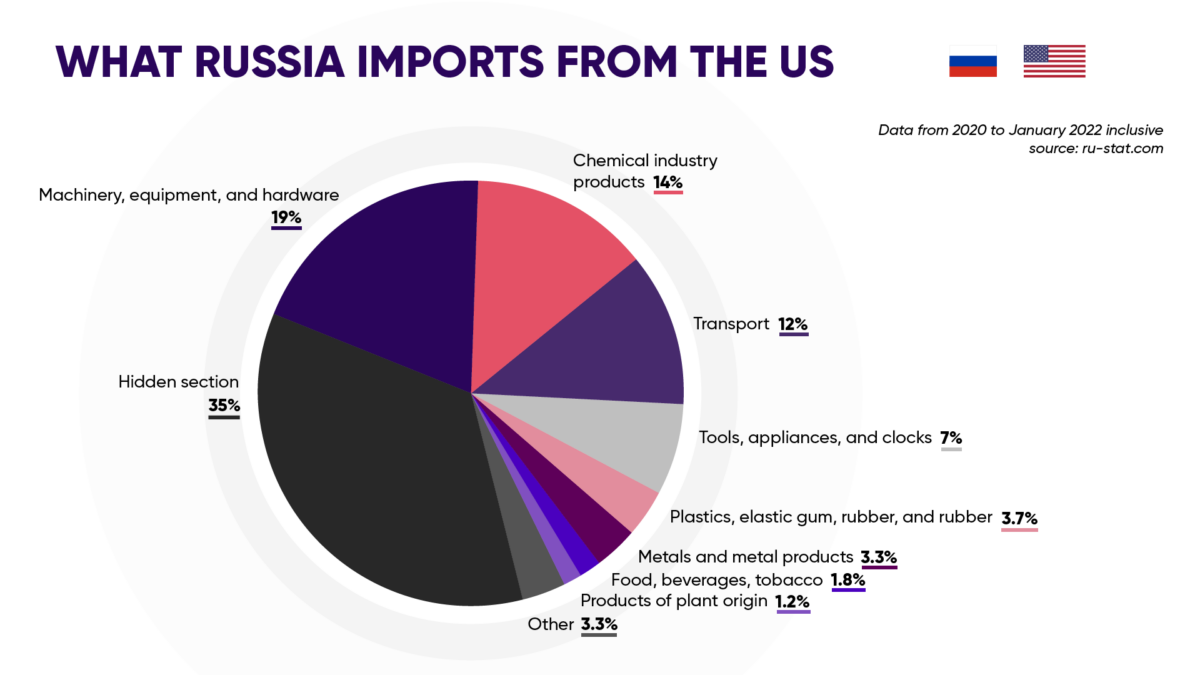 Transport — 11.6%
59% of this group are cars and trucks, 23.7% — spare parts for vehicles, 5% — bodies (cabins) for vehicles, 4.8% — tractors, 1.5% — motorcycles, mopeds.
Tools, appliances, and clocks — 6.9%
Almost 30% of this group accounts for appliances, instruments, and devices used in medicine, surgery, dentistry, or veterinary medicine. Another 13% accounts for devices for physical and chemical analysis, 12.1% — X-ray equipment, 11.5% — orthopedic products, crutches, bandages, tires.
In early March, the US banned the export of luxury goods to russia: clothing, watches, cars, and other goods that russian elites often buy.
What russia sells to the US
Export to the United States in 2020 amounted to USD 10.8 bln, and the next year it increased by 61% — USD 17.7 bln. The United States ranked 9th in terms of the share of russian export.
Mineral products (oil and petroleum products) account for 44.2%
97% of this group is oil and petroleum products. Another 1.2% is oils (benzene, toluene, xylene, naphthalene), 0.4% is hard coal.
Precious metals (precious stones and metals) — 17.9%
97% of this group accounted for platinum, 1.2% — for silver.
Metals and products made of them — 16.5%.
In particular, export of ferrous metals amounted to 45%, aluminum and products made of it amounted to 37%.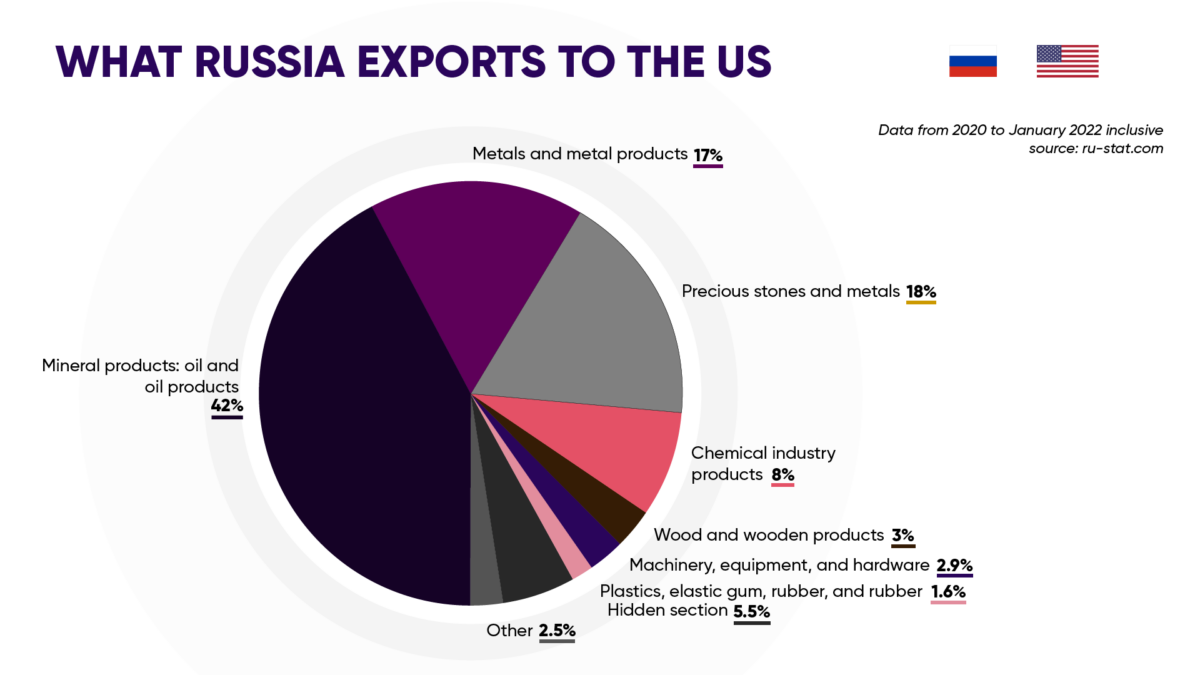 Chemical industry products — 8.1%.
Fertilizers accounted for 81%, products of inorganic chemistry (carbon, phosphates, sulfates) — 12.4%.
Machinery, equipment, and hardware — 2.9%
Engines and other power units were mostly exported, accounting for 47%, as well as machinery and industrial equipment — 14%.
U.S. sanctions of russia
According to the Castellum.AI sanctions tracking service, since the beginning of the full-scale invasion of russian troops into Ukraine, the United States has imposed more than 900 restrictions on russia and russians. Gradually, they closed the sky and ports to them, banned the import of russian oil, gas, and coal. The US cut off a number of russian banks from SWIFT, froze the assets of the central bank of russia and of others. They imposed trade restrictions, personal sanctions, and sanctions on legal entities, in particular — regarding 48 companies of the defense complex. The latter were left without Western technological and financial resources. Among them are:
The Tactical Missile Weapons Corporation that manufactures submarine weapons, digital computers, and radar systems, hypersonic weapons, anti-radar, anti-ship, and other multipurpose missiles for the russian army.
"High-precision complexes," which is part of the state corporation Rostec. It supplies anti-aircraft and anti-tank missile systems, including Pantsir and Iskander missiles.
State Corporation "Tekhmash."
State holding "Russian helicopters," which oversees the production and maintenance of civilian and military helicopters.
PE "Kronshtadt" that develops and manufactures equipment, software for unmanned aircraft and defense industry of russia.
U.S. assistance to Ukraine is currently estimated at about EUR 7.6 bln (of which EUR 4.4 bln accounts for military assistance). And on April 28, the U.S. Congress approved a draft law that allows the deployment of a lend-lease program for Ukraine. According to it, Ukraine can theoretically receive:
➢   U.S. third-generation M1A2 Abrams main battle tanks (possibly other modifications of this tank)
➢   U.S.-made M2A3 Bradley infantry fighting vehicles and combat reconnaissance vehicles at its base (M3A3 Bradley)
➢   M109A6 Paladin self-propelled howitzers;
➢   multiple-launch rocket systems on the wheel chassis of the HIMARS family;
➢   universal launchers / M270 MLRS;
➢   mobile anti-aircraft missile systems NASAMS 2, joint development of Norway and the United States;
➢   stationary Patriot anti-aircraft missile systems, which act as air defense and missile defense;
➢   multifunctional light fighters of the 4th generation F-16 C/D;
We will be able to obtain this technique under a simplified procedure. After the end of the war, its rent will have to be paid, and the surviving weapons will have to be returned to the United States.