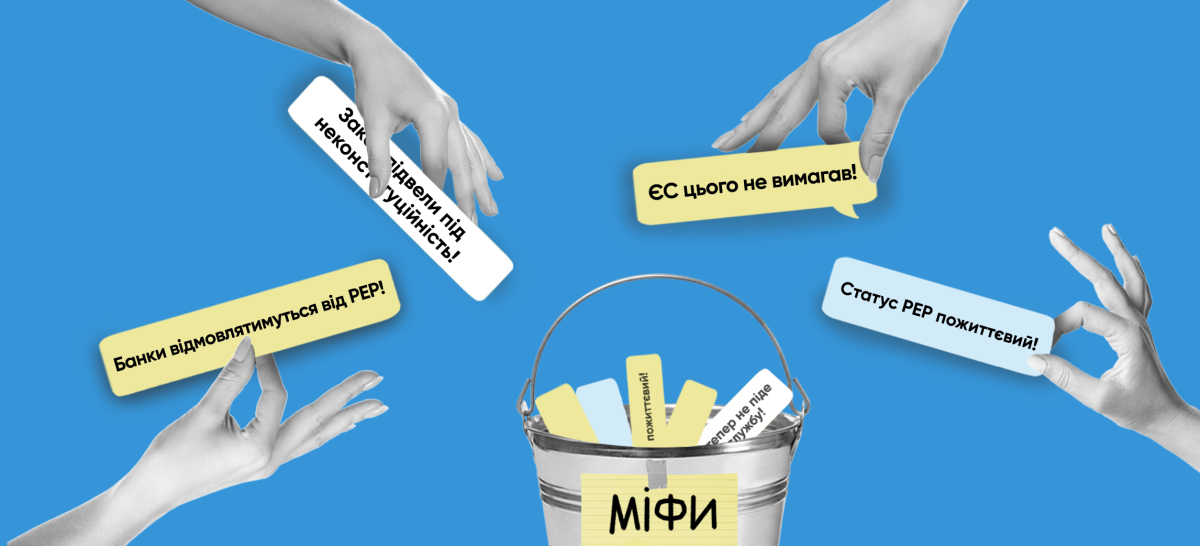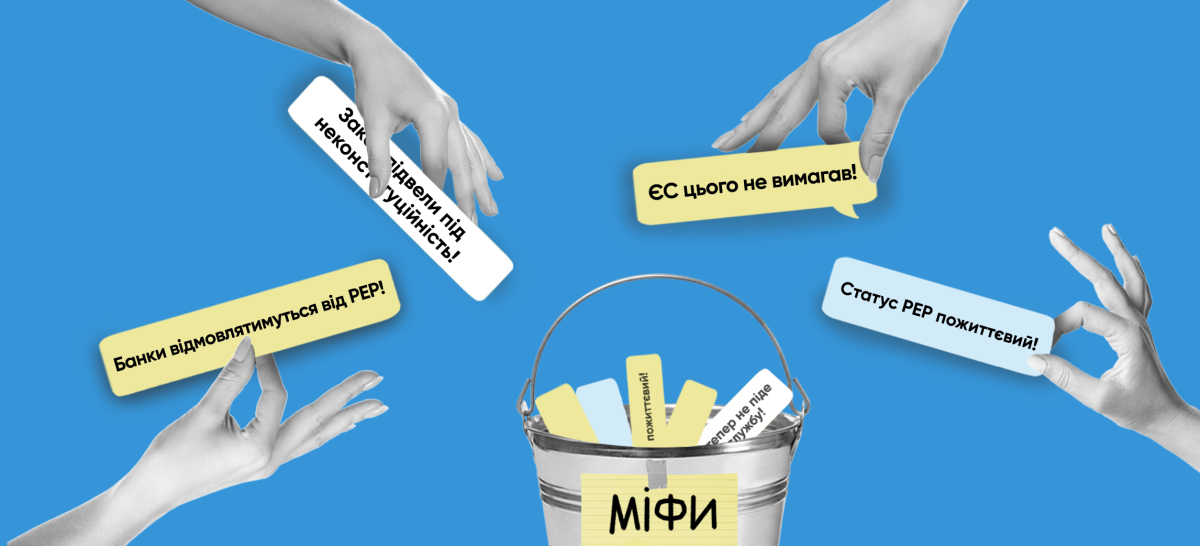 On October 17, the Verkhovna Rada adopted draft law No. 9269-d on strengthening financial monitoring of politically exposed persons (widely referred to as PEPs – politically exposed persons). This law is a topic of conversation for nearly everyone nowadays.
Traditionally, this discussion initiative has led to a division within the Ukrainian social community, creating two distinct groups: those in favor and those against the law. Many myths have already been born in these discussions, and now it has become difficult to distinguish between the truth, manipulation or even lies.
Therefore, we at Transparency International Ukraine analyzed in detail the most popular myths about PEP in the Ukrainian information space.
But before we start debunking the myths about PEPs, let's say a few words about this law and why Ukraine needs it.
The adoption of the law on strengthening financial monitoring of PEPs is one of the European integration requirements and one of the corner stones of the IMF. In other words, we need the adoption of this law both to receive financial assistance from the IMF and the decision about the commencement of EU accession negotiations.
This law, in fact, remained the only obstacle to a positive assessment of Ukraine by the European Commission regarding the fulfillment of the preconditions for the start of membership negotiations. At meetings with Ukrainian officials, EU representatives constantly highlighted: they are waiting for the restoration of the lifelong status for PEPs with the time-limited enhanced monitoring for most of them. That is, these are two different concepts, we will get back to them later.
The "lifelong PEPs" norm is not new for Ukraine. That law was adopted back in 2019 but in November 2022, the MPs voted for harmful amendments to the draft law No. 8008 on preventing and countering money laundering. Those amendments weakened the financial monitoring of public figures, contrary to FATF standards and the requirements of EU Directive 2015/849. It was then that the norm appeared, which contradicts these documents, that the status of the PEP will last only 3 years after being dismissed from a politically exposed position, without exceptions.
The new law corrects that shortcoming, but the very same amendments gave rise to a heated discussion among Ukrainians.
So where is the truth and where is it not? Let's analyze 7 the most popular myths about PEPs.
Myth 1. The PEP law is now stricter than it should be! It was voted under the fake sauce of European integration that was not the EU requirement, and the Ukrainian negotiation team failed.
That's not true. The adopted PEPs law is in compliance with the FATF recommendations No. 12 and No. 22, directive mandatory for EU member states (which candidate states are mandated to adopt), and meets the criteria set forth by the IMF for securing macro-financial assistance.
The reality is that the universal term limit for all officials, implemented in 2022, contradicts a fundamental principle of PEP control outlined in these documents: that the assessment of the risk associated with a specific top official (whether current or former) should be based on an individual basis, with due consideration to the country's corruption level playing a significant role.
Ukraine has reason to be proud of its anti-corruption efforts in recent years. However, let's be frank with ourselves: we still have a significant amount of work ahead of us to achieve at least an average level of corruption in the EU.
Hence, the EU had an explicit demand that the regulations for Ukrainian PEPs must be more stringent compared to countries like Germany.
Myth 2. Now all civil servants will have to confirm each transaction for life. They proposed punishment for all who works for the state!
First of all, enhanced financial monitoring does not provide for violation of rights, and the PEP status is not a punishment or a type of legal liability – this is directly written in the EU directive, and this is exactly the principle that Ukraine should follow.
Secondly, the thesis about indefinite monitoring, which has become very popular, is a myth, or rather, manipulation.
The EU and FATF standards do allow for the principle of lifelong control. However, this rule does not apply to all politically exposed persons.
The law adopted by the Verkhovna Rada says about enhanced monitoring within 12 months after dismissal; exactly the same rule is found in the EU Directive.
That is, if in 12 months of enhanced financial monitoring, the financial institution confirms the low risk of transactions with a PEP (for example, that PEP did not use offshore companies, did not do large transactions like buying a new car, apartment, etc.), the PEP will no longer be subject to enhanced financial monitoring and will become the same as for any ordinary individual.
And the usual financial monitoring applies to all bank customers.
Let's repeat a very important detail: the PEP status is not equal to enhanced financial monitoring checks and it doesn't make these checks lifelong.
In 12 months, the bank is obliged to "equate" monitoring of the absolute majority of former top officials if they do not have suspicious transactions, with other "ordinary" customers.
Enhanced monitoring at the bank can be reinstated only when a PEP triggers monitoring based on the same criteria as regular customers. The NBU sets a number of indicators and actions that may lead to an increase in the client's risk status – for example, "unusually large financial transactions" or those that "do not have an obvious economic or legitimate purpose." For an "ordinary" client, this may entail increased risk and additional interaction with the bank, whereas for a PEP, it would result in the reinstatement of enhanced monitoring.
What is the difference?
Standard monitoring involves, among other things, regular updating by the client of questionnaires in which the bank finds out their amount of income, social status, the approximate volume of pending financial transactions, and so on.
Enhanced monitoring entails additional obligations, such as PEPs being required to verify the sources of income for specific transactions (particularly suspicious or of substantial value). This form of monitoring is what PEPs who have faced issues in the past refer to, as it involved, for instance, obtaining approval from the bank's management for high-risk payments.
This can potentially create problems of abuse by banks – so we'll come back to that later.
Myth 3. The PEP law was made unconstitutional to cancel it.
This myth is very common. They say that the Parliament "retroactively tightened the responsibility for those who were not PEPs, but now have become them."
But this is also false.
First of all, PEP status is a preventive measure, not a responsibility or punishment. This is the fundamental principle of both the directive and the Ukrainian law. Therefore, the law does not apply to strengthening legal liability for PEPs and, accordingly, has no retroactive effect.
Simply remember that the PEP law without a three-year limitation was already effective from 2019 to 2022. When it was applied to officials who previously didn't hold the "politically exposed persons" status and were granted this designation, surprisingly, no concerns about the decision's constitutionality arose. Because it is constitutional!
Financial monitoring rules do not become unconstitutional because they consider events that occurred in the client's life before a PEP status. Other EU countries had the same experience but none of them called financial monitoring of PEPs unconstitutional. Indeed, when evaluating the risk associated with "regular" customers, banks take into account past events, ranging from marital status to a troubled credit history.
It is equally important that the law does not provide for enhanced monitoring over old transactions that occurred or will occur before it comes into force. Enhanced monitoring for PEPs who left a politically exposed position more than 3 years ago will be applicable solely to transactions conducted after the law's enactment.
In other words, there will be no appeals against previous transactions that have already been made. For example, no one will withdraw funds from previous transfers to a new PEP's card.
Myth 4. Now no one wants to be a civil servant because people will be afraid to become a PEP together with their family, which will also suffer.
Only top officials receive PEP status. It will not apply to civil servants whose positions belong to categories "B" and "C".
For understanding, category "A" are employees at the level of heads of state departments, such as the State Tax Service or the National Police of Ukraine. Therefore, for category "A" civil servants, the PEP status and enhanced financial monitoring is well justified and in the interests of the whole society since top officials have high risks of money laundering compared to regular officials. And the list of family members of PEPs also covered by enhanced financial monitoring (parents, children, spouses, etc.) is also justified in terms of risks because these persons can have the strongest family ties.
And this is also not Ukrainian know-how, monitoring of the closest family members of top officials is also used in EU member states.
Regrettably, we have to acknowledge that a certain blow to the reputation of the civil service was indeed dealt, not by the enactment of this law, but by the propagation of myths about it.
Myth 5. I have never been in the civil service, but simply in the governing bodies of a political party that has not received state funding and has no representation in Parliament. I'm still a PEP though.
That's true.
This provision is in line with Ukrainian legislation and FATF recommendations, which mention important officials of political parties as an example of PEP – regardless of whether the deputies are in the national Parliament from that party or receiving state funding.
The recently incorporated clauses in the law will grant a one-year window to lift enhanced financial monitoring from individuals in the leadership of political parties who do not pose the typical risks associated with PEPs.
Myth 6. The notion that the PEP status is not a form of punishment is a theoretical proposition! However, in practice, banks will decline to engage with PEPs, potentially block small transactions, and so forth. It's already happened!
This stereotype is perhaps the key one, because it translates the real problem (abuse by banks) into the PEP legislation as a whole.
Instead of pushing for the resolution of financial monitoring issues, which have often been resolved by the National Bank, we are witnessing efforts to eliminate the mandatory regulation required for Ukraine as an EU candidate, as well as an obligation stipulated in the memorandum with the IMF.
Therefore, issues of excessive monitoring and the refusal to provide services to PEPs did exist and were widespread before.
But the new law is designed to solve them.
The NBU and the National Securities and Stock Market Commission must provide recommendations on the proper application of a risk-based approach to PEPs within 3 months. They should be clear and understandable, as well as the rules of financial institutions.
For abuse of enhanced financial monitoring by non-bank financial institutions or banks, groundless refusal to make a transaction or open or continue maintaining an account, the NBU will fine up to UAH 1.7 million or UAH 10 million, respectively.
Moreover, in September, the NBU raised the threshold for financial transactions without explaining the sources of income in one institution from UAH 200 thousand per quarter to UAH 400 thousand per month. Not so many PEPs, even from top officials, will exceed this threshold.
There is also a warning that different banks will be able to evaluate PEP differently. For example, a native bank may consider a PEP to be low risk, while a beneficiary bank may think it is a high-risk one and apply enhanced financial monitoring.  
That's true. Now this issue is not fully resolved.
However, the above-mentioned NBU recommendations can help in synchronizing those risks among banks. And in that case, the native bank should inform the State Financial Monitoring Service about the failure to implement enhanced financial monitoring and the absence of PEP risk, after 12 months and the low risk of previous operations. And another bank should find out about that through the State Financial Monitoring Service, to avoid an illogical situation when one bank has enhanced financial monitoring due to the corresponding risks, and the other does not.
A distinct situation arises when it comes to foreign banks, primarily European ones, where Ukrainian top officials and their family members have genuinely encountered difficulties in accessing services. There is a version that these problems were the key reason why in 2022 MPs tried to weaken monitoring for "former" tops and their family members.
However, it's important to note that these foreign financial institutions are still bound by European regulations, which do not impose any time limits on a "PEP's age," and they do not consider the specific legislation in Ukraine regarding this matter.
Myth 7. And somewhere in the conditional Country X there is a time limit, after which the dismissed official loses the PEP status. We need the same thing.
This is absolutely bad idea. Because European integration is enshrined in our Constitution as the desire of the entire Ukrainian people. And in the EU, there is a mandatory Directive for all members, which provides for the absence of time restrictions that should be applied automatically after dismissal from office after some time.
Moreover, we are talking about a fairly new directive adopted in 2015.
We should be ready for the fact that Brussels will scrutinize prospective EU member candidates more rigorously for compliance with general European regulations than it does for existing members. This is a customary procedure that all recent waves of new member states have encountered, and we must also be ready for it, not just in this particular scenario.
It is impossible to circumvent the adoption of this law if we really strive to become a full-fledged EU member. As mentioned earlier, its implementation was a prerequisite set forth by European partner countries to initiate negotiations regarding Ukraine's integration into the European Union.
Even if we put aside the European track, Ukraine should avoid the impression that the Ukrainian PEPs want to hide something, especially during a full-scale war, when Ukraine is the recipient of a large amount of foreign financial assistance and is preparing for even larger programs for post-war recovery.
* * * * * *
Unfortunately, there is a fact behind these myths: now many experts are demonizing the PEP law.
However, these are the rules that the European Union lives by, and if we want to become a part of it, we must follow them. And other problems, such as the prestige of the civil service, or the inconvenience that Ukrainian banks can create, should be solved in a different way, and not by abandoning the rules that should prevent corruption crimes and money laundering.