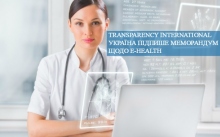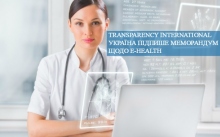 On November 25 the Ukrainian Ministry of Health will hold a press conference to announce the signing of a Memorandum on cooperation, establishing a transparent and effective electronic system for health care in Ukraine.
Event begins: 10:00 a.m.
The venue: Ukrainian Ministry of Health (Bila Zala (White Hall), 3rd floor, 7, Hrushevskoho Str., Kyiv)
Participants:
–Uliana Suprun, Acting Minister of Health;
– Pavlo Kovtoniuk, Ukrainian Deputy Minister of Health;
– Oleksandr Ryzhenko, Head of the State Agency for e-governance;
– Nataliia Sholoiko, Deputy Director of the State Expert Center of the Ministry of Health of Ukraine;
– Vladyslav Odrynskyi, Ukrainian Family Medicine Association Board Member;
– Representative of the public initiative supporting the digitalization of healthcare.
You will learn:
– When will the Ukrainian e-system of health care launch?
– What are the projects core principles?
– Who will partner with the Health Care Ministry to implementation the e-system of health care?
Mass media representatives need to register by 06.00 p.m. on November 24, 2016, tel.: 044-253-02-25.