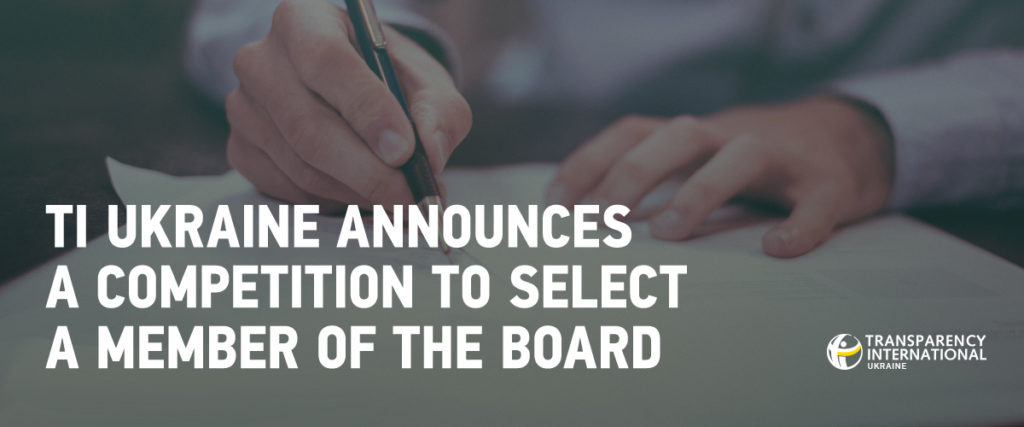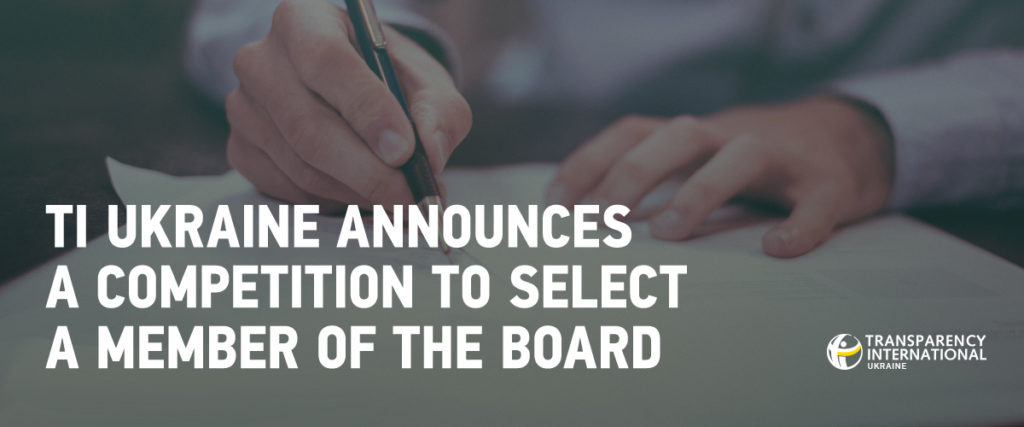 The Ukrainian chapter of the global anti-corruption network Transparency International announces an open competition to select a member of the Board.
The Board of Transparency International Ukraine is the main governing body of the organization, which is appointed by the TI Membership Meeting for two years. It consists of five members. The Board reviews and approves the organization's focus areas, annual budget and working plan, approves program documents. The full authority and obligations of TI Ukraine's Board are set forth by the Statute.
The current members were selected in October 2016. In connection with Vitalii Kasko's withdrawal, there is a need to select the fifth member of the Board.
To participate in the competition, please submit the following documents:
CV;
Your vision of TI Ukraine's development and your personal contribution by 2018.
The regular TI Ukraine Membership Conference will take place on October 21, 2017. It will make the decision concerning the selection of the new Member of the Board.
Please send your documents to the following emails: [email protected] and [email protected], the subject should be "Board appointment."
Application deadline: 11:59PM, October 20
Please note that, according to the current legislation, members of the Board of TI have to submit electronic declarations as prescribed by the declaration procedure for public officials and anti-corruption activists by April 2018. Failure to submit a declaration or wrong submission entail responsibility, including criminal responsibility. Please take it into account before submitting your documents for the competition.
#
Media contact: Olha Tymchenko, head of Communications department at Transparency International Ukraine

Cell phone: 050-352-96-18,

e-mail: [email protected]

Transparency International Ukraine is a national chapter of Transparency International, an anti-corruption NGO with over 90 national chapters; which operates in more than 100 countries. TI Ukraine's mission is to limit the increase of corruption in Ukraine by promoting transparency, accountability, and integrity in both the public authorities and civil society. You can learn more about the organization's activity on the website www.ti-ukraine.org