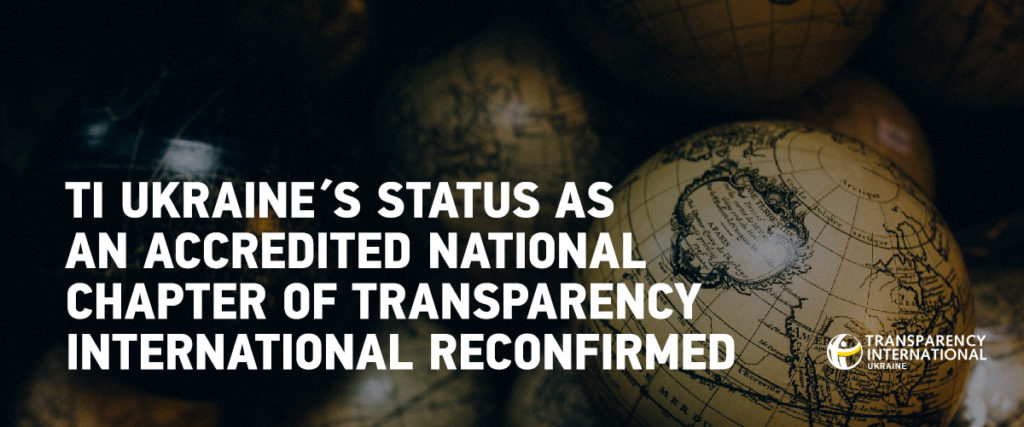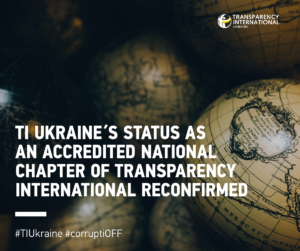 Transparency International Ukraine has had its status of the global movement Transparency International reconfirmed. The organization has again been accredited to be considered the Ukrainian chapter of Transparency International. Chairman of the Board of TI Ukraine Andrii Marusov was notified about it by an official letter of the ex-Chairman of the Board of Transparency International José Ugaz. 
In his letter, Mr. Ugaz wrote, "Following consideration of the recommendation of the Membership Accreditation Committee (MAC), the TI Board of Directors has decided to reconfirm your Chapter's status as an accredited National Chapter of Transparency International."
José Ugaz also thanked TI Ukraine for continuing to make a significant contribution into TI movement in our country and encouraged cross-chapter exchange and cooperation.
Mr. Ugaz's letter is complemented by the accreditation agreement between the National Chapter (TI Ukraine) and the global TI. It says that both non-governmental organizations share the common goal of ensuring that the anti-corruption Movement is strengthened.
To maintain the status of a National Chapter of TI, the Ukrainian office had to prove that it actively worked to prevent and combat corruption, adhered to the approved procedure of board selection, had internal policies, regularly held events which contributed to reducing corruption, had significant media and social network publicity.
TI Ukraine obtained the status of a National Chapter of Transparency International back in 2012. Two years later, at the membership conference of the global anti-corruption movement, the organization obtained full accreditation.
Contact  for media: Olha Tymchenko, Head of Communication Department  Transparency International UkrainePhone: + 38 050-352-96-18,

E-mail: tymchenko@ti-ukraine.org

Transparency International Ukraine is a national chapter of Transparency International, an anti-corruption NGO with over 90 national chapters; which operates in more than 100 countries. TI Ukraine's mission is to limit the increase of corruption in Ukraine by promoting transparency, accountability, and integrity in both the public authorities and civil society. You can learn more about the organization's activity on the website www.ti-ukraine.org