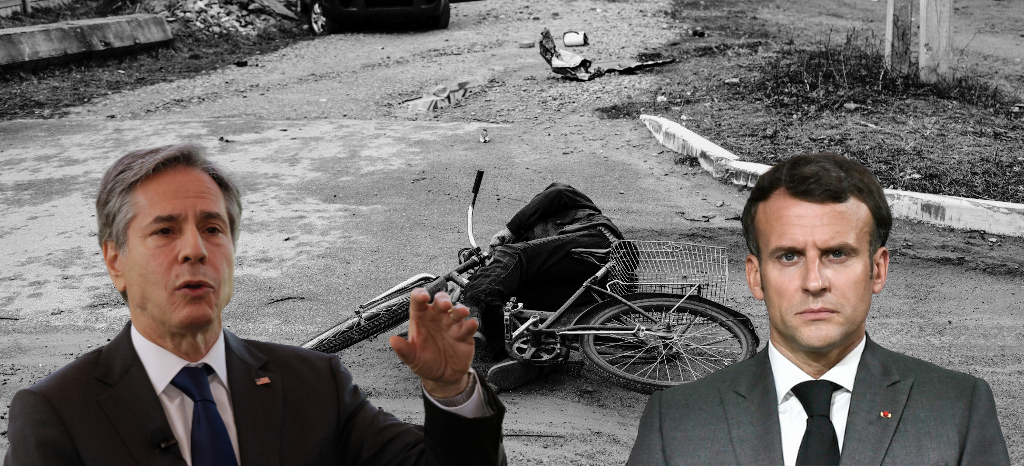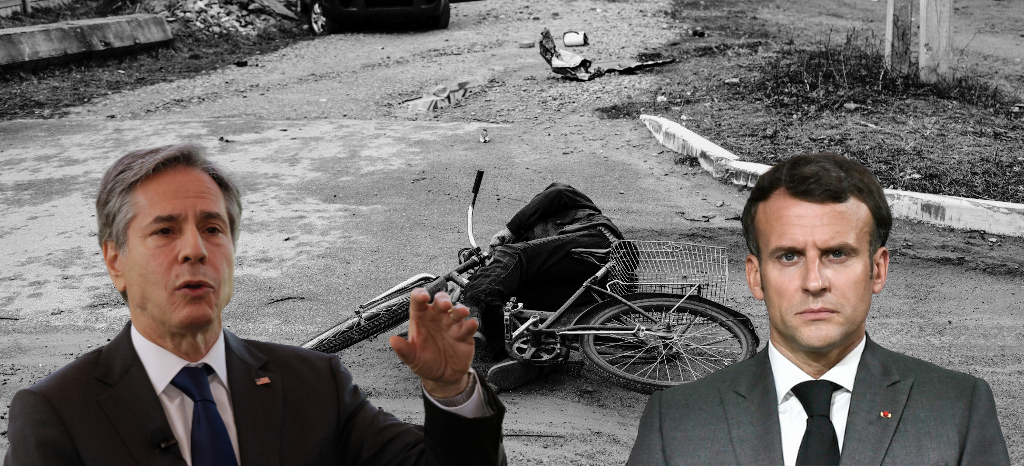 On April 2, the whole Kyiv oblast was liberated from the russian invaders. Since the beginning of the war, Irpin, Bucha, and Hostomel have taken numerous hits by the russian army. After the repulsion of russian troops, we saw terrible consequences: streets were destroyed in the Kyiv region, people were killed with their limbs tied, raped, shot, and about 280 dead were buried in a mass grave. 
The world is shocked, expressing words of support, some countries are preparing a new wave of sanctions. How did world leaders react to the genocide of the Ukrainian people, and what to expect from foreign powers?
USA
Secretary of State Antony Blinken says that "pictures from Bucha are a punch in the gut. Before the russian aggression, we said that they were likely to commit atrocities. Since the aggression, russian troops have committed war crimes, and we are working to document this in order to provide information to the relevant institutions and organizations, for which there should be accountability. But the most important thing is that we should not be indifferent to this. We must not normalize it." Blinken added that the US would strengthen the current sanctions and add new ones.
NATO
Secretary General Jens Stoltenberg says that such brutality against civilians has not been seen in Europe for decades." Stoltenberg added that it was essential that the International Criminal Court started investigating war crimes in Ukraine so that the perpetrators would be brought to justice.
The European Union
The President of the European Council, Charles Michel, is shocked by the atrocities of the russian army. He promises additional sanctions, and also emphasizes that the EU is helping Ukraine to collect evidence to prosecute russia in international courts.
United Kingdom
Prime Minister Boris Johnson states that the attack on civilian Ukrainians in Bucha and Irpin is another proof that putin and the russian army are committing war crimes in Ukraine. He says he will "do anything to starve Putin's war machine." Johnson also added that the United Kingdom would strengthen sanctions and military support for Ukraine, but without details.
Germany
German Chancellor Olaf Scholz promised to initiate additional sanctions against russia and provide arms for Ukraine. He also called for international organizations to be granted access to the affected territories in order to independently document crimes.
Finance Minister Christine Lindner stated that the images from Bucha proved the crime of war against Ukraine, so it would be worth strengthening sanctions against Putin. However, he rejected the idea of a European Union embargo on russian gas imports: "We must plan tough sanctions, but gas cannot be replaced in the short term. We will do more harm to ourselves than to them [russia]."
Foreign Minister Annalena Baerbock believes that "the unstoppable violence of Putin destroys innocent families and knows no boundaries. The perpetrators of these war crimes must be brought to justice."
France
President Emmanuel Macron stated his willingness to implement new sanctions: "There are clear signs that war crimes are being committed. The russian army is responsible for the murders in Bucha. What has happened needs a new round of sanctions." 
Poland
President Andrzej Duda called on Western allies to provide Ukraine with more weapons. He also said that images from the Kyiv region refute the idea of finding any compromises, and all criminals should be held accountable.
Italy
Foreign Minister Luigi Di Maio assures that Italy is ready to impose sanctions after the atrocities in the suburbs of Kyiv and will not veto the russian gas embargo.
Canada
Prime Minister Justin Trudeau condemned the killing of civilians in Ukraine, stating that russia must be held accountable.
Japan
Prime Minister Fumio Kishida notes that the attack on the civilian population violates international law and creates humanitarian problems. He said that Japan would work with the international community to impose further sanctions on russia.
In addition to compassion and pity, in addition to spreading the truth and publicly condemning putin's regime and the atrocities of the occupiers, Ukraine needs decisive action from states and unions.
In response to these war crimes, we call for the strengthening of sanctions against russia, in particular:
impose a total embargo on oil, gas, and coal;
close all ports for russian ships and goods;
disconnect ALL russian banks from SWIFT.
We cannot delay and wait for new inhumane abuses against Ukrainians!
In addition to compassion and pity, in addition to spreading the truth and publicly condemning putin's regime and the atrocities of the occupiers, Ukraine needs decisive action from states and unions.