Goal:
complete the formation of effective anti-corruption infrastructure in Ukraine hich would encompass prevention, investigation of and justice for corruption-related crimes.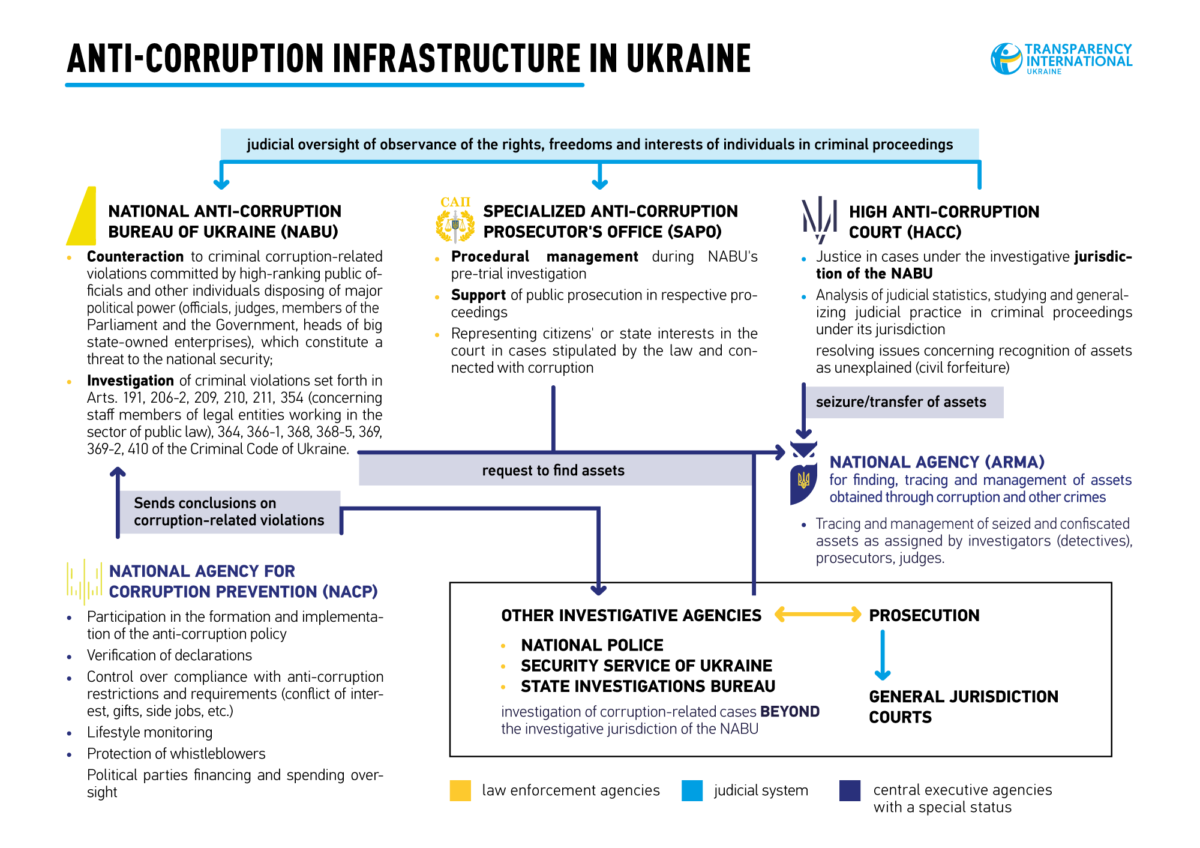 Actions:
Civic Support of Anti-Corruption Court Establishment
We consistently spoke in favor of a separate Anti-Corruption Court which would work with cases under the investigative jurisdiction of the NABU and the SAPO. Our organization regularly advocated the "crucial role" of Public Council of International Experts in the process of selection of future anti-corruption judges. Together with other civil society organizations and Ukraine's international partners, we have succeeded in advocating the Law of Ukraine "On the High Anti-Corruption Court" in the version consistent with the interests of the Ukrainian society. Currently, TI Ukraine is focusing on the control over selection of judges to the HACC.
Reset of the National Agency for Corruption Prevention
Wishing to support effective work of the National Agency for Corruption Prevention, TI Ukraine participated in the formation of Public Council under the NACP and development of the Agency's 2017-2020 Strategy. However, given serious concerns about professionalism and integrity of the current NACP management, we terminated cooperation with this agency in 2017. We currently advocate a full reset of this agency with new personnel. Transparency International Ukraine insists that the NACP should implement mechanisms for automatic verification of electronic declarations.
Support to Formation of the Specialized Anti-Corruption Prosecutor's Office
A representative of TI Ukraine participated in the work of the selection board for staff members of the Specialized Anti-Corruption Infrastructure in 2017. Following the scandal around the activity of Head of the SAPO Nazar Kholodnytskyi, Transparency International Ukraine insists on his voluntary resignation for the sake of further effective cooperation between the SAPO and the NABU and preservation of public faith in anti-corruption agencies.
Support of Effective Work of the NABU and Civic Control
TI Ukraine takes action against attempts to restrict independence of the National Anti-Corruption Bureau of Ukraine. Transparency International Ukraine has been fighting for a professional staff of the External Control Commission of the NABU. After Pavlo Zhebrivskyi was appointed one of the members by the President of Ukraine, TI Ukraine filed a lawsuit to the court to dispute the Order on Appointment, since Mr. Zhebrivskyi does not comply with the requirements prescribed by the law. Three representatives of our organization have been elected to the Public Control Council under the NABU.
Achievements
– The Law of Ukraine "On the High Anti-Corruption Court" approved in compliance with the recommendations of the Venice Commission
– 4 prosecutors of the Specialized Anti-Corruption Prosecutor's Office hired
attempts to restrict the NABU's independence legislatively fended off
– 2 out of 3 members of the External Control Commission under the NABU comply with the legislative requirements