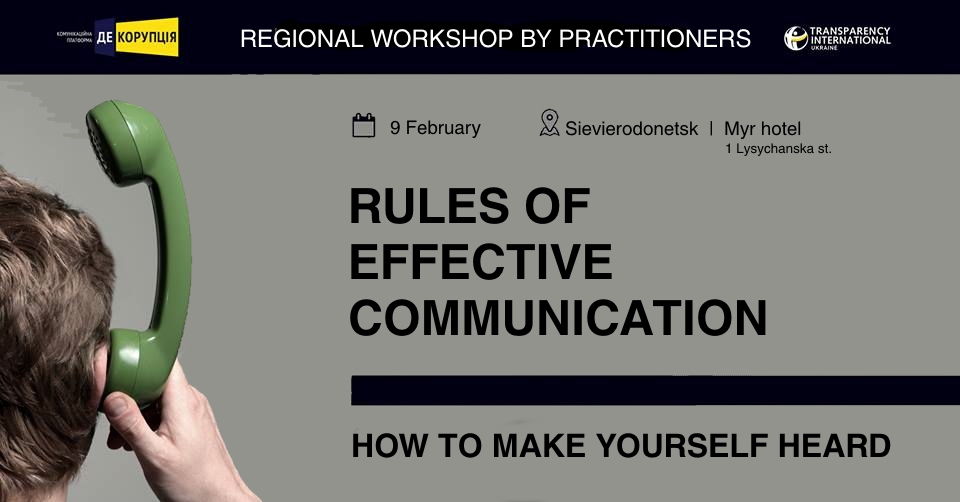 On February 9, the Ukrainian chapter of the global anti-corruption organization Transparency International will conduct a workshop Rules of Effective Communication: How to Make Yourself Heard? in Sievierodonetsk as part of of the national campaign I Don't Bribe. During the event, the participants will learn more about the communicative component of advocacy campaigns in the regions, tools for communication in the socio-political environment, in particular regarding that of the authorities with the community.
This workshop is a great opportunity to get answers to the questions you are interested in from practitioners with successful communication campaigns that work in Kyiv and beyond.
The purpose of the event is to share successful experiences and tools of communication among regional authorities and activists, the development of civil society and good governance, and encouraging the use of effective communication methods in further activities.
The workshop will consist of three main parts :
Advocacy: Regional dimension. How to build and run a successful advocacy campaign in the regions?
How to build effective communication between the authorities and the community?
Perfect text: how to write interesting texts for the media (of various formats and structure)? What is a successful performance supposed to be?
During registration, you will be able to indicate your needs in your questionnaire and we will try to help you.
The number of participants is limited. Representatives of the authorities and local self-government, public activists, journalists from Sievierodonetsk, Lysychansk, Rubizhne of Luhansk oblast are invited to participate in the event. We ask those who wish to participate to register and fill in the questionnaire by 11:00 on February 8, 2018, at https://goo.gl/yJCS6X
The event will be held on February 9, 2018, from 9AM to 4PM in Myr Hotel (Sievierodonetsk, Lysychanska street, 1).
Participation in the event is free. All the participants will be provided with free coffee breaks, handouts, and stationery. You will be notified if you have been selected to participate by the organizers after the registration. Feel free to contact TI Ukraine Policy Analysis Expert Oleksandr Kalitenko regarding any questions about the event, kalitenko@ti-ukraine.org, 044 360 52 42.
This workshop is implemented by Transparency International Ukraine as part of the project USAID/ENGAGE (Enhancing Governance, Accountability, and Engagement) and is implemented by Pact in Ukraine. The content of campaign materials is the exclusive responsibility of Pact and its partners and does not necessarily reflect the views of USAID or the Government of the United States of America.