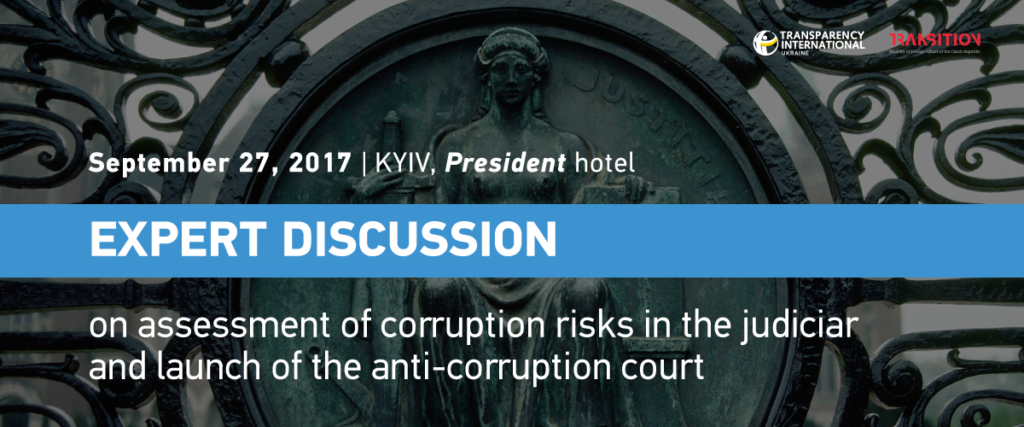 Transparency International Ukraine is happy to invite journalists to an expert discussion on the launch of the independent anti-corruption court. Creation of such a specialized body is part of Ukraine's legal commitments and obligations ot the EU and the IMF.  
 
The expert discussion Corruption Perception and Risks Assessment in Judiciary. An Effective Solution – the Launch of the Anti-Corruption Court? will start at 9:30 AM on September 27 at 12 Hospitalna street, President hotel (Kyiv).
How should the new institution function? How should the judges of the anti-corruption court be selected? Will the anti-corruption court become an effective tool to solve the problem of dependence of the judiciary? These will be the questions answered by the discussion participants: MPs, NABU and judiciary representatives, leading civic experts and lawyers.
The New Justice Program engaged international expert Ms. Victoria Jennett (the UK) to analyze corruption risks in the justice sector of Ukraine, and the results will be presented at the event. Another presentation will concern the data from surveys of Ukrainian judges, court personnel, lawyers and the public concerning their perception of judges' independence and accountability, readiness to report corruption and awareness of protection mechanisms for corruption whistleblowers.
Speakers:
David M.Vaughn, Chief of Party, USAID New Justice Program;
Victoria Jennett, Anti-Corruption Expert of USAID New Justice Program;
Artem Sytnyk, Director of the National Anti-Corruption Bureau of Ukraine;
Svitlana Zalishchuk, People's Deputy of Ukraine;
Serhii Leshchenko, People's Deputy of Ukraine;
Roman Kuybida, expert, Centre of Policy and Legal Reform;
Oleksandr Vodyannikov, national expert, OSCE Project Coordinator in Ukraine;
Markiyan Halabala, attotney, independent expert.Request accreditation by calling 0638874630 – Maksym Kostetskyi
The event is organized by the Ukrainian chapter of the international network Transparency International with the support of USAID New Justice program of justice sector reform and the Ministry of Foreign Affairs of the Czech Republic as part of the Transition Promotion Program. Information covered at the event does not necessarily reflect the official stance of the Ministry of Foreign Affairs of the Czech Republic.