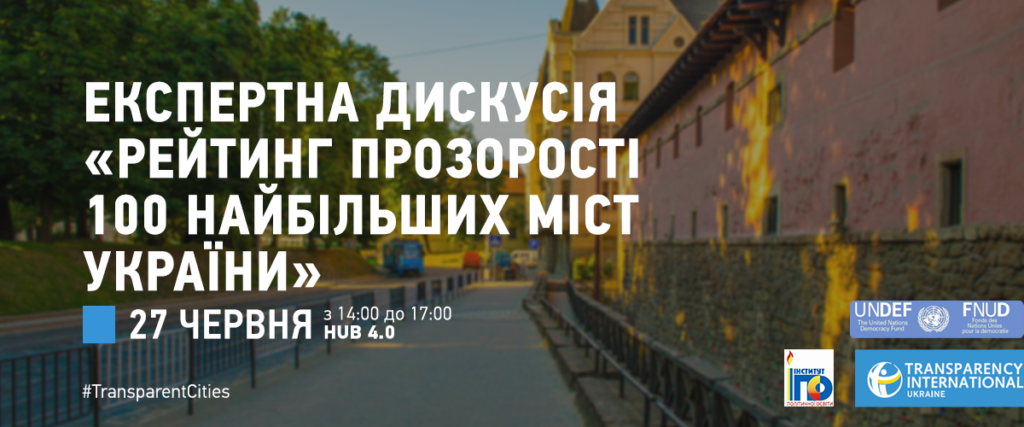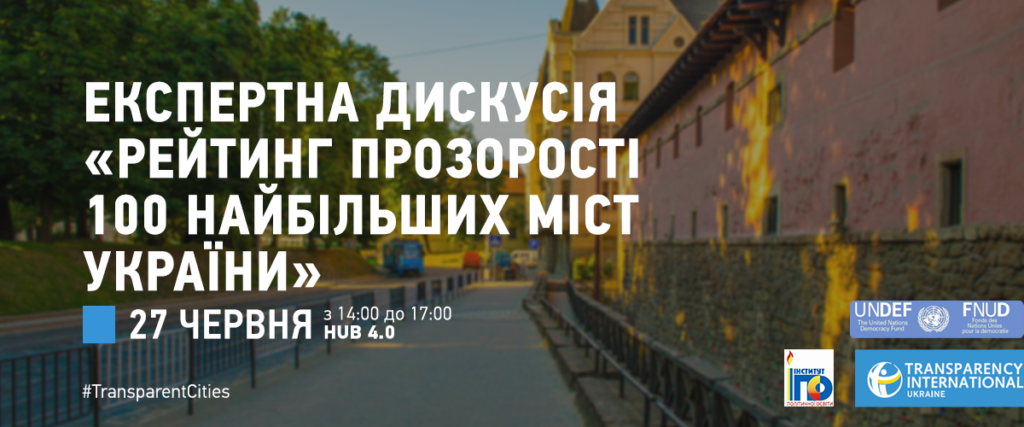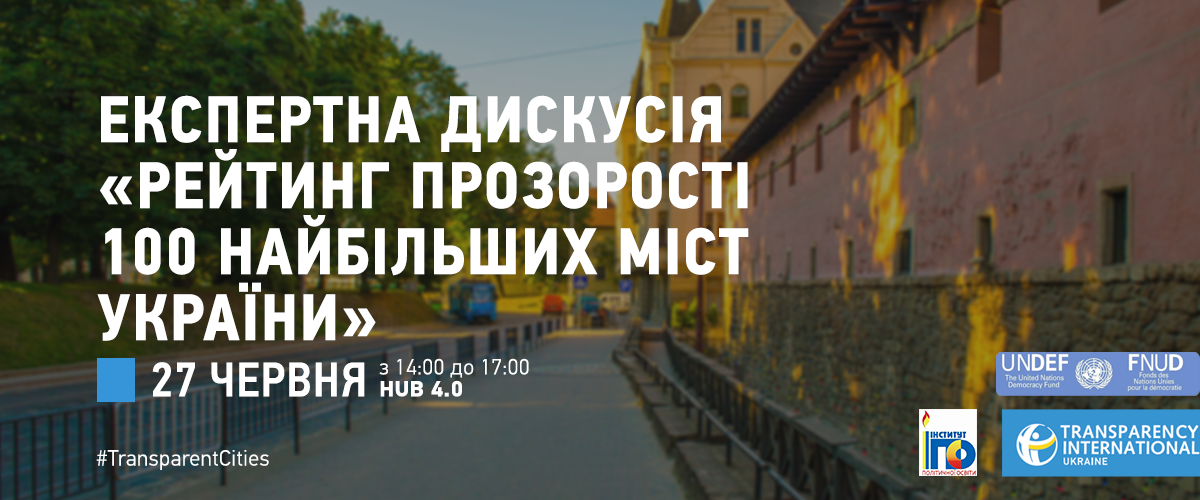 DEAR PARTNERS!
Transparency International Ukraine invites you to join our expert discussion on transparency of Ukrainian cities. It will be held on June 27, 14:00 – 17:00 in HUB 4.0 (Kyiv, provulok Yaroslavskyi, 1/3). At the presentation "Ranking of the top 100 largest cities on their transparency in Ukraine", public leaders, the government representatives and the international community, as well as representatives of local self-government bodies will share their opinions on the issue with the audience.
Ukraine continues to introduce its decentralization reform. Without increased levels in cities transparency, risks and problems can just shift from the central to the local level. And, this will eliminate the effectiveness of the reform.
How to promote transparency in the Ukrainian cities and ensure that the local governments are accountable to the citizens? How to promote transparency in the Ukrainian cities and ensure that the local governments are accountable to the citizens? Which cities are the most open tight now? What actions were performed by the municipalities in order to provide citizens with free access to information on the city, including the distribution of public funds, real estate matters, and land? In what cities, residents have a right to decide how to spend the local budgets? All of these issues will be discussed during the event.
Experts on this issue will explain what efforts should the city leaders make to reach the top of the ranking, and how cities can overtake other cities. A list of cities claimed to be transparent was based on 91 indicators related to 13 areas including budgeting, land use, human resources policy, procurement, online services, etc.
The cities with the lowest scores on transparency ranking will be mentioned as well as the areas non-disclosed to the citizens. The experts will pay a special attention to improving transparency in these cities and areas, and they will provide their advisory support to local authorities.
Speakers:
• Yaroslav Yurchyshyn, executive director of Transparency International Ukraine;
• Oleksandr Solontai, chief analyst of the project "Building Transparent Cities in Ukraine";
• Alona Bereza, the leader of the Female Anchor Pioneer movement (Khmelnytskyi);
• Anatolyi Boiko, representative of the civil partnership "Transparency in local budgets"(Odessa);
• Representatives of the local authorities (mayors or their deputies from Mariupol, Lviv, Kropyvnytskyi, Sambor, Myrnohrad, Boyarka, Novomoskovsk).
To participate in the discussion, please register online http://bit.ly/2sRvIWw
For more information, please phone: +380 97 398 46 38 (Anatolyi Kotov).
Our joint efforts will make our cities comfortable!