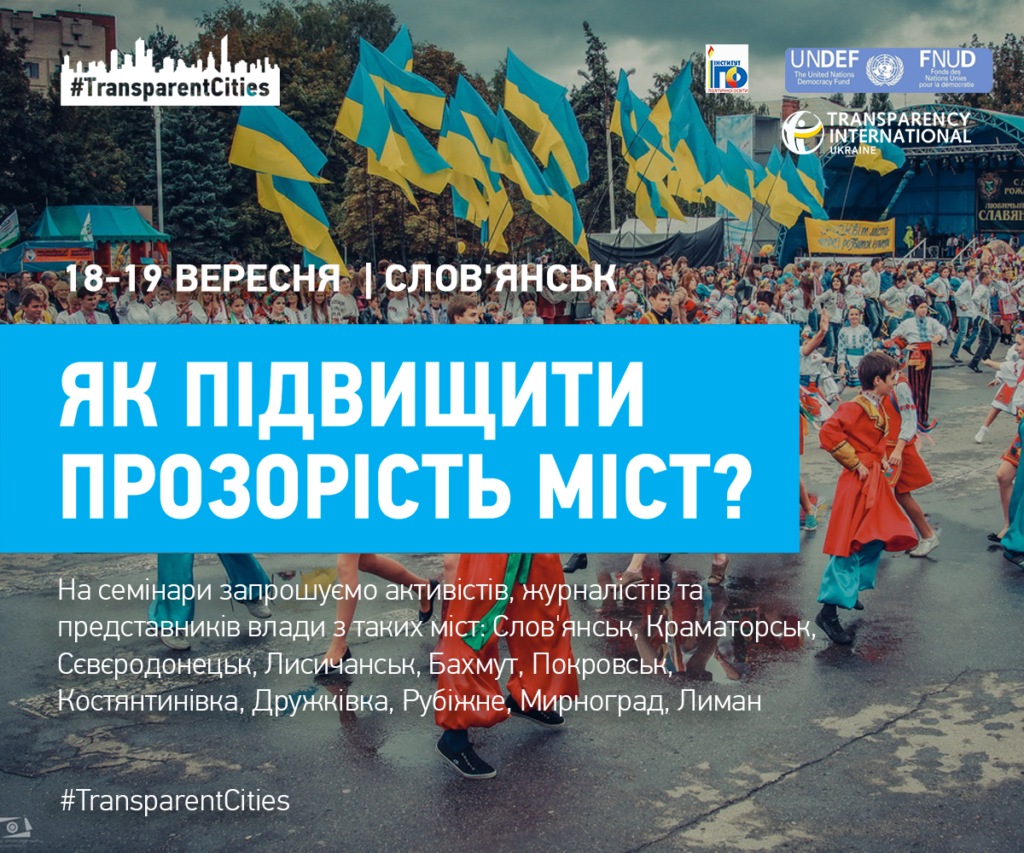 The Ukrainian chapter of the global anti-corruption network Transparency International invites regional journalist, activists and representatives of the local authorities to a cycle of seminars dedicated to improvement of city transparency.
On September 18-19, 2017, the seminar will take place for citizens from the following cities: Sloviansk, Kramatorsk, Sievierodonetsk, Lyshychansk, Bakhmut, Pokrovsk, Kostiantynivka, Druzhkivka, Rubizhne, Myrnohrad, Lyman. The event will take place in Sloviansk in Ukraina hotel at 22 Shevchenka st. The seminar will last for two days.
At the seminar, experts will share their experience and best practices in the area of improving city transparency. They will pay special attention to the areas of accountability where the cities did worst.
In June, TI Ukraine and the Institute of Political Education presented the transparency ranking of 100 cities, which can be found at transparentcities.in.ua/en. 
The cities were ranked based on 91 indicators in 13 areas of activity. The study involved such indicators as the work of local authorities, public access and participation, procurement, housing policy, budgeting and public contracts, grants and finance allocation, social services, human resource issues, professional ethics and conflict of interests, land use and construction policy, municipal enterprises, municipal property and education. Only 6 cities out of 100 exceeded 50 points. Which means that the situation with transparency in Ukraine leaves much to be desired.
The seminar can accept 30 participants. They will be selected based on their motivation and include local officials, representatives of local NGOs and journalists. The trainers will be both TI Ukraine experts and invited professionals, including those from abroad.
To participate in the seminar, please register at http://bit.ly/2vwGLVG. The deadline is September 8, 4 PM.
Food, travel expenses and handouts are covered.provided by the organizers. The activists and journalists who will be able to participate in the seminar will be notified at least 3 days beforehand.
To discuss any issues, please contact Kateryna Tsybenko, manager of the project Building Transparency in Ukrainian Cities, at +38 (098) 231 08 81.
The seminars will be held as part of the project Building Transparency in Ukrainian Cities, which is implemented with the support of the UNDEF.