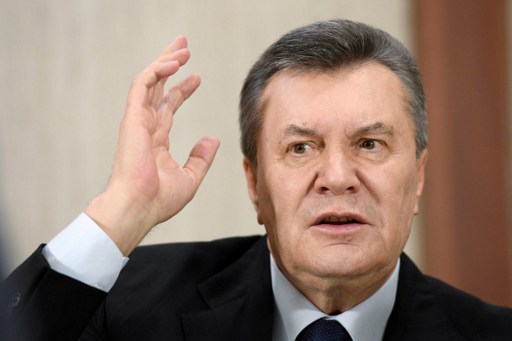 Editor's Note: The following opinion is adapted from an open letter to Ukrainian President Petro Poroshenko by Jose Ugaz, chairman of the global anti–corruptionnetwork Transparency International, released on Feb. 22, the third anniversary of ex-President Viktor Yanukovych's flight from power because of the 100-day EuroMaidan Revolution. Ugaz outlined top priorities for the recovery of assets stolen by Yanukovich and his associates. The document was prepared by Ukrainian and internationalexperts.
In his letter to Ukrainian President Petro Poroshenko, Transparency International chairman Jose Ugaz reminded him of their agreements from June, when they discussed the launch of the e-declaration system and cooperation in the field of asset recovery of the former regime of President Viktor Yanukovych. Ugaz welcomed the launch of the e-declaration system. "It must also serve as an efficient mechanism to verify data reliability and the legality of declared property," Ugaz said.
Unfortunately, significant progress in investigating corruption crimes committed by Yanukovych and his allies has not been achieved, and the stolen wealth has yet to be repatriated. The anti-corruption court has not been established, and opposition deputies, not the President of Ukraine, submitted the only draft law regarding this issue to the parliament.
"The international anti-corruption organization Transparency International and our Ukrainian chapter – Transparency International Ukraine – are ready to extend all possible assistance in tracing and recovering assets illegally stolen by high-ranking officials under the Yanukovych regime. However, the activities of law enforcement bodies are out of reach. This not only complicates the participation of non-governmental organizations in recovering stolen assets. But due to the absence of real results, it generates significant doubts in the effectiveness of law enforcement in this sphere," Ugaz wrote.
In December, in Kyiv, in cooperation with our partners we held an international conference on asset recovery, where we discussed the obviously insufficient level of progress over the past three years.  In response, we developed a number of specific recommendations for strengthening anti-corruption policy in Ukraine. The recommendations are attached to the letter.
Here are the first five that Ukrainian authorities must take to effectively investigate Yanukovych-era crimes:
Adopt effective legislative provisions for in-absentia pre-trial investigation and judicial inquiry procedures;
Adopt a well-functioning law, which would provide for the civil confiscation of property of public officials, the origin of which they cannot prove by legal income;
Provide an effective and comprehensive launch of the National Agency of Ukraine for search, investigation and management of assets, obtained through either corruption or other illegal means;
The Prosecutor General of Ukraine should immediately report on achievements in the investigation of grand corruption by theYanukovych regime and on the fate of Ukrainian property stolen by top officials who fled; and
The Prosecutor General's Office should develop, as soon as possible, a public registry of criminal proceedings on grand corruption of the Yanukovych regime, providing information about investigated crimes, wanted persons and frozen assets."I am sure that by fulfilling these recommendations will both break the cycle of impunity, and advance Ukrainian anti-corruption reforms," Ugaz said.
For its part, the Transparency International global movement and its Ukrainian chapter will continue to make every possible effort to combat corruption, trace and recover stolen assets and ready to monitor and actively assist in the implementation of recommendations.
Download Open letter in English
Download Recommendations in English