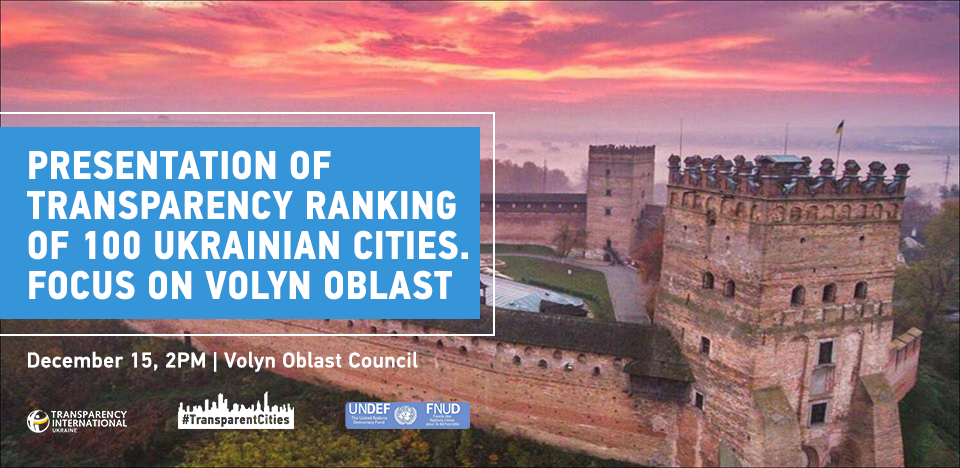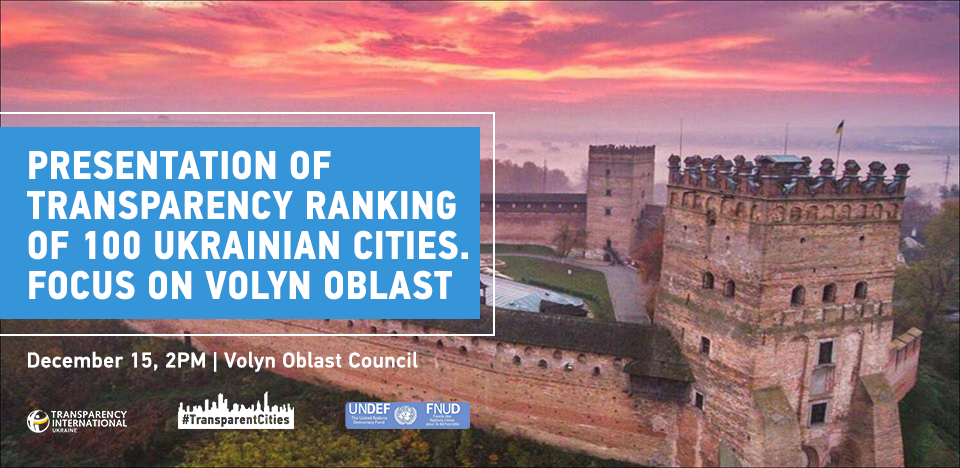 Representatives of the Department of development, investments and European integration of the Volyn Oblast State Administration have addressed the Ukrainian chapter of the global anti-corruption network Transparency International asking for a presentation of the Transparency Ranking of 100 Ukrainian cities. The organization welcomes the aspiration of regional authorities for transparency. That is why TI Ukraine is organizing an off-schedule presentation of ratings of Lutsk, Kovel and Volodymyr-Volynskyi and invites representatives of authorities, public activists and journalists, as well as anyone who is interested in transparency of cities of Volyn oblast to attend the event.  
The event will take place on December 15 from 2:00PM to 4:00PM at the premises of the Volyn Oblast Council at 9 Kyivskyi Maidan (oval hall). TI Ukraine's team of analysts analysts jointly with the Institute of Political Education has compiled the rating of cities according to 91 indicators in 13 areas; among them, budget process, use of land, human resources, public procurement, availability of online services etc.
In the Transparency Rating of 100 biggest cities of Ukraine, Volyn region has shown quite decent results: city of Lutsk holds 11th place and has earned 44.16 points out of 100 possible, while Kovel and Volodymyr-Volynskyi have taken 27th and 31th position in the ranking. To what extent is Lutsk transparent in comparison with other regional capitals? Why has one of the areas gotten the minimum score, and how could it be fixed? You will find out at our event.
Speakers:
Manager of Transparent Cities at Transparency International Ukraine Kateryna Tsybenko;
Deputy head of  the Department of development, investments and European integration of the Volyn Regional State Administration Andrii Tkachuk;
Director of Volyn separated chapter of the «Tsentr rozvytku mistsevoho samovriaduvannia» (Center for development of local self-government) institution Anatolii Parkhomiuk.
The experts will pay special attention to the improvement of situation in the areas of worst performance and offer their consulting support.
To participate in the event, please register at http://bit.ly/2AwM2h7
Agency of regional development of Volyn region is the co-organizer of the event. The project "Building Transparency in Ukrainian Cities" is supported by the United Nations Democracy Foundation.
Media contact: Kateryna Tsybenko, manager of Transparent Cities at Transparency International Ukraine
tsybenko@ti-ukraine.org
+38 098 231 08 81

Transparency International Ukraine is a national chapter of Transparency International, an anti-corruption NGO with over 90 national chapters; which operates in more than 100 countries. TI Ukraine's mission is to limit the increase of corruption in Ukraine by promoting transparency, accountability, and integrity in both the public authorities and civil society. You can learn more about the organization's activity on the website www.ti-ukraine.org