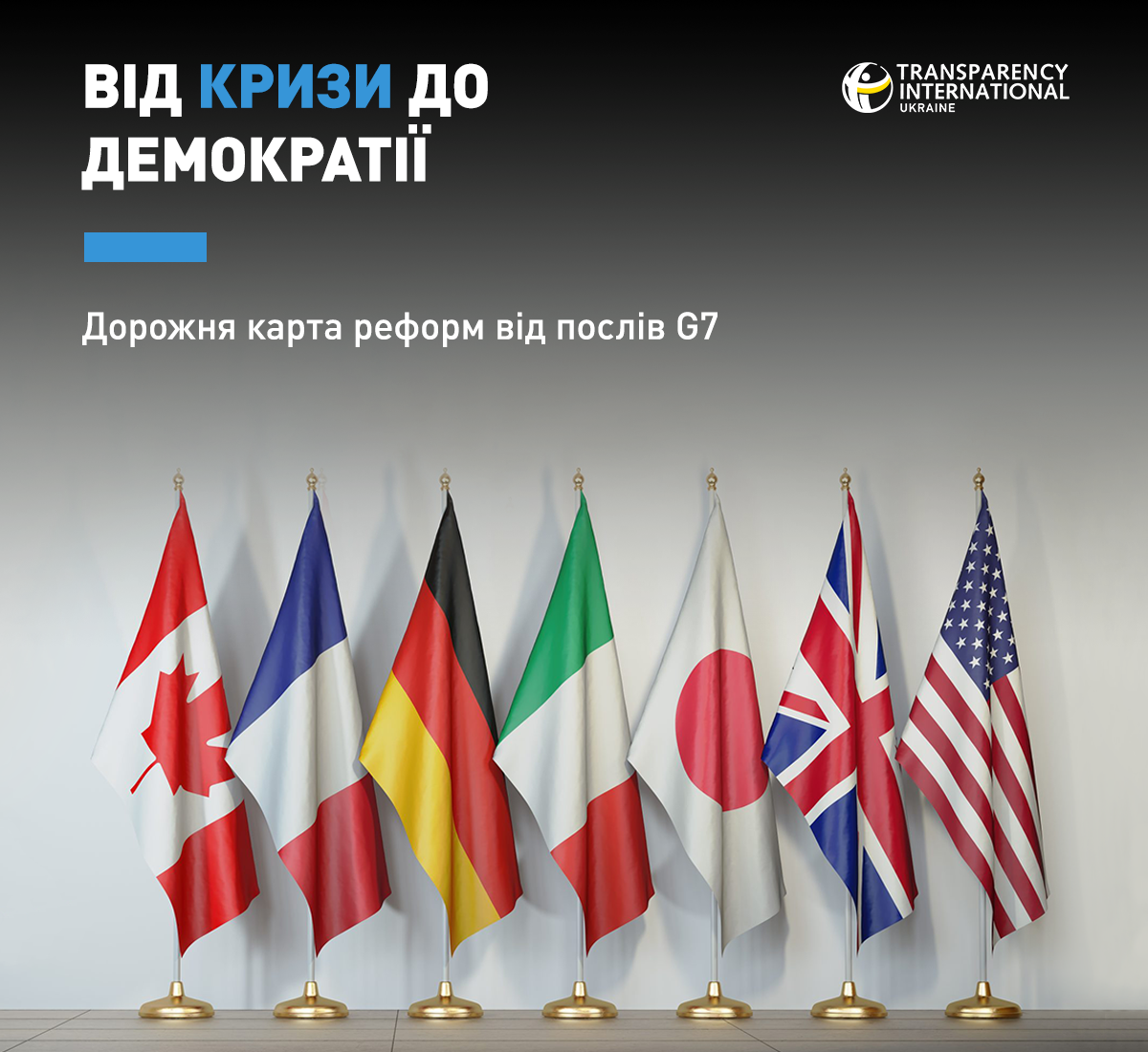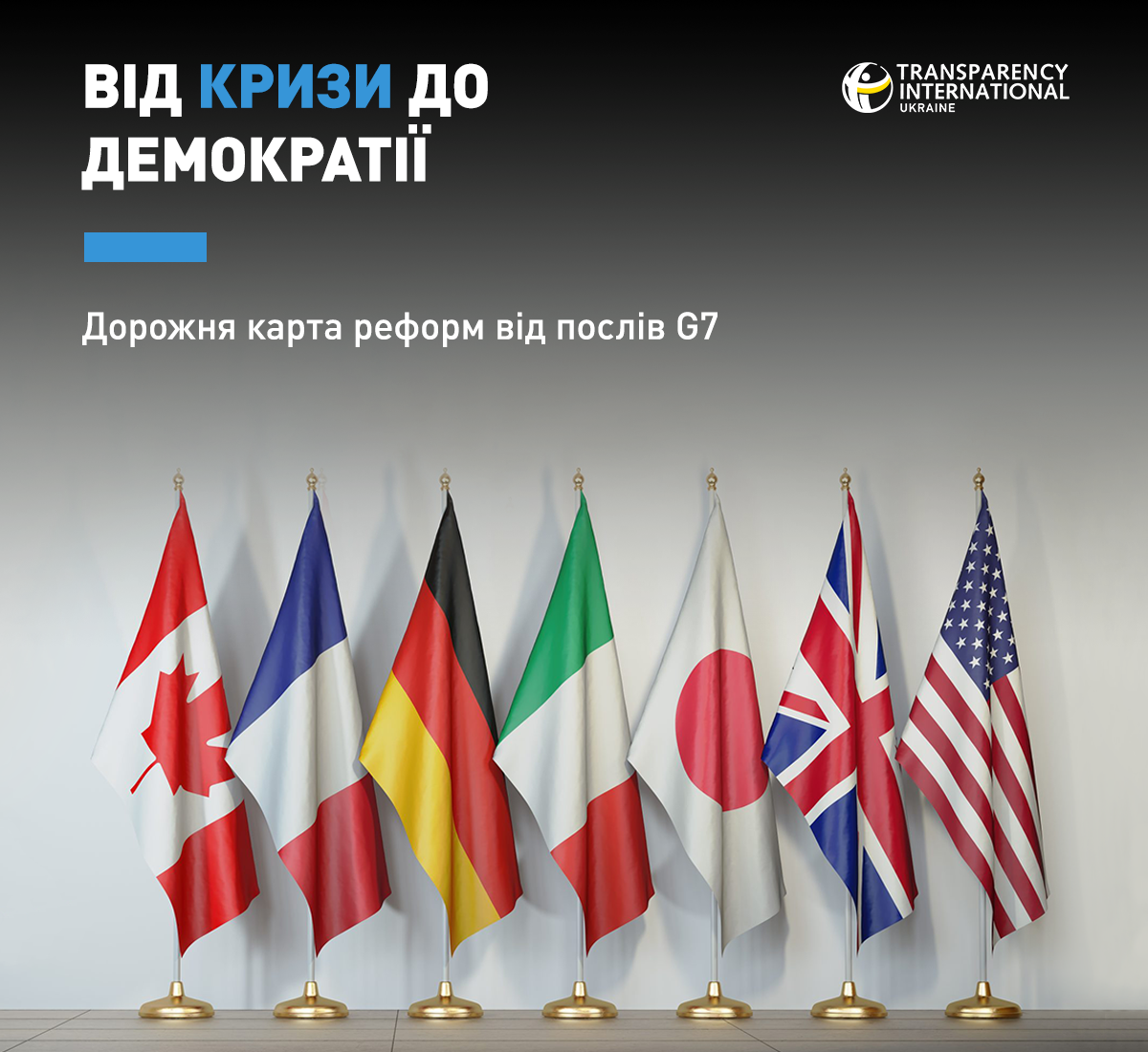 On January 25, G7 ambassadors to Ukraine released a roadmap for strengthening anti-corruption institutions and reforming the judiciary.
It is about a proposal for a comprehensive reform "necessary to establish a judicial system that meets the expectations of the Ukrainian people."
In particular, G7 ambassadors believe that the recent decisions of the Constitutional Court of Ukraine (CCU) have led to the crisis which has put the country's democratic development in jeopardy. That is why our country needs to take a number of priority measures to restore public confidence in the Ukrainian judiciary and anti-corruption infrastructure. According to the G7, some of these measures are absolutely urgent.
Thus, to implement the anti-corruption reform, G7 ambassadors recommend the following changes. Almost all of these measures have been mentioned in our research of capacity, management and interaction of anti-corruption infrastructure agencies, presented in October 2020, as well as in legal analyses of draft laws and CCU decisions.
Taking into account the recent CCU decision, establish a firm legal basis as soon as possible for NABU that ensures its institutional independence and enables it to continue operating effectively without interruption. TI Ukraine also emphasized this in its legal analysis of this CCU decision.
Fully eliminate the consequences of the CCU decision of October 27, 2020. This includes ensuring that sanctions for falsely declaring or intentionally failing to declare property are not more lenient than previous ones and are equally strict to the ones that were repealed. Ensure the application of sanctions for false declaration and intentional failure to file declarations against former civil servants as well as those who resign. Ensure the qualification of false declaration, as well as intentional failure to file a declaration of assets, with a sanction in the form of a fine as a criminal offense under investigative jurisdiction of the NABU, which is authorized to initiate proceedings against high-ranking officials in case of these offenses. Provide for the possibility of applying imprisonment for the most serious form of false declaration.
Ensure a transparent, independent, and merit-based selection process for the head of SAPO. Guarantee that the existing voting rule of 5+2 is maintained.
Ensure the independence of the HACC by providing the court with adequate resources, including permanent premises in line with IMF commitments, and by ensuring effective security to judges and their families.
Regarding the implementation of judicial reform, the G7 mostly had to structure the existing recommendations, including those from the Venice Commission. Unfortunately, the leadership of our state refuses to hear and follow them, so the ambassadors repeated all these tips again:
Concerning the CCU: Urgently establish a clear and transparent competitive selection process for CCU judges with the meaningful participation of internationals in vetting all candidates. It is also proposed to strengthen disciplinary proceedings and ethical requirements for CCU judges. Mandate impartial open deliberation of cases and voting by CCU judges; temporarily institute a modest increase in the decision-making quorum of the CCU;
reform the HCJ as a matter of urgency. Introduce a new transparent selection process for HCJ members that ensures high ethical and integrity standards, with a meaningful role for international participants. TI Ukraine has repeatedly called on the authorities to do so in the framework of the recommendations in relation to the Corruption Perceptions Index and as recommendations in the study of the capacity, management and interaction of anti-corruption infrastructure bodies, which was presented in October 2020;
ensure a transparent reboot of the HQCJ, with a meaningful role for international participants, involving an independent Selection Commission empowered to establish its own internal regulations for competitively selecting HQCJ members. This recommendation has also been repeatedly voiced by TI Ukraine in our research;
revise procedures for the consideration of high-profile administrative cases against government agencies in line with IMF commitments, including transferring jurisdiction for such cases to the Supreme Court or establishing a new specialized administrative court. TI Ukraine has also repeatedly stressed in its statements the need to implement such measures;
strengthen judicial accountability by adopting clear rules, standards, and processes for investigating and adjudicating complaints of judicial misconduct;
through inclusive consultations, develop and adopt a comprehensive judicial reform strategy that is in line with international and European standards and harmonized with the National Anti-Corruption Strategy for 2020-2024.
The Roadmap also includes recommendations on the future of the Supreme Court, an audit of the State Judicial Administration, liability of judges, the role of the Public Integrity Council, etc.