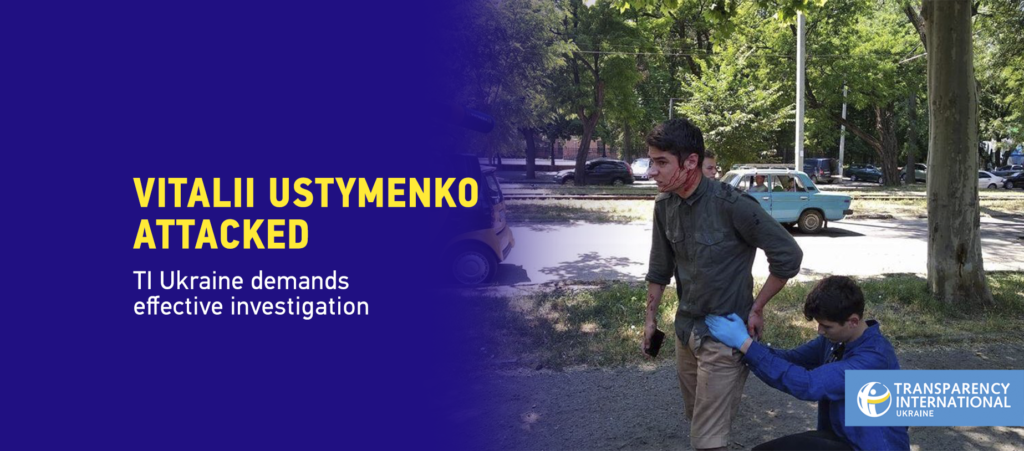 TI Ukraine expects law enforcement authorities to investigate the attack against Odesa activist Vitalii Ustymenko effectively. On June 5, unknown individuals attacked him, the activist suffering a knife wound as the result of the attack. Mr. Ustymenko is convinced that the attackers were trying not just to hurt and intimidate him, but to kill him.
Note that Vitalii is a member of the Public Control Council under the NABU. The National Police has to find out the names of the perpetrators and those behind the crime as soon as possible, as well as investigate their motives.
Unfortunately, violence against representatives of civil society organizations, journalists and whistleblowers who work on corruption counteraction usually goes unpunished. The society is yet to find out who attacked judge Larysa Holnyk in Poltava and who burned down the office of The Fourth Estate newspaper in Rivne. As a reminder, in July of this year, Vitalii Ustymenko was beaten by unknown individuals who had been present at the bail hearing concerning Odesa mayor Hennadii Trukhanov. We demand that top officials in law enforcement authorities pay special attention to the way their regional departments are going to investigate the attack against Vitalii Ustymenko and other similar cases.