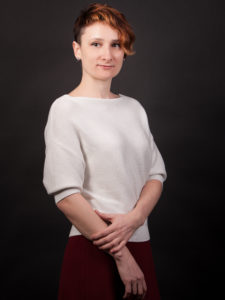 OLHA TYMCHENKO
Communications Department Head
TI Ukraine information support, public relations, cooperation with media.
Areas of Expertise:
Effective communications
Advertising campaigns
Olga graduated from Kyiv International University with honors (majoring in Journalism and Public Relations). Ms. Tymchenko worked as a journalist, editor and PR-expert in business and politics. She shapes the communications policy of the organization,as well as she is responsible for creative input and positioning of TI Ukraine in media. She also develops TI Ukraine's communication campaigns, i.e. Corruption Kills, or They Wouldn't Keep Silent. Information products created within the framework of these campaigns win festivals of social advertising. Olga is concerned with the search of new modern forms of interaction between media and society. She is interested in philosophy, and psychology of social processes. She is inspired with travelling and studying different cultures. Olga paints and writes poems. She has already published two books of collected poems.