De-Corruption Communication Platform Launch
Anti-Corruption Communication Platform Launch is a four-month project including the creation of the "De-Corruption" communication platform and pilot campaign "Corruption Must Be Spotted."
"De-Corruption" must become one of the most important elements of the anti-corruption communications strategy implementation, and reform implementation in general.  The platform will provide a system for communication between a wide range of engaged parties, and will provide equal access opportunities and a high level of competence.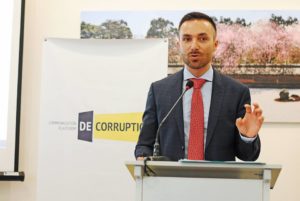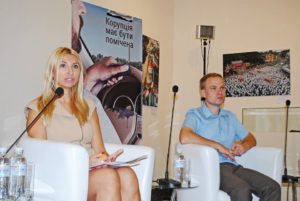 The goals and tasks of the Platform as an efficient anti-corruption communications system element are:
       Support of the anti-corruption reform implementation and its final goal, which is a corruption free Ukraine.  A Ukraine where corruption does not pose a threat to the national security, or an obstacle to sustainable economic development.
      Ensuring balanced anti-corruption communications.
      Provision of equal access and possibilities for different parties engaged in the implementation of the anti-corruption reform. An especially important and significant aspect is the one of civil society development, when resources and access to stakeholders and channels of communication are not concentrated in a small circle of organizations (associations).  Instead, they are spread between a wide range of civil society institutes, in particular, to the regions of Ukraine, not only Kyiv.
       Development and implementation of individual communication campaigns, mostly of a social nature, directed at raising citizen and business awareness of the corruption phenomenon, the damage it causes, who is responsible for corrupt practices, changes in behavioral models, and motivation for proactive enhancement of corruption prevention and counteraction.
Duration: 6 months; May – August, 2016
Donor: The Ukraine National Initiatives to Enhance Reforms (UNITER), which is implemented by Pact, Inc. in Ukraine with the support of the United States Agency for International Development (USAID).
Project coordinator: Kateryna Tsybenko