ProZorro.Sale is a system established upon the initiative of the public, government authorities and commercial platforms. The goal of the system is transparent, fast and effective sales of liquidated banks' assets as well as prevention of corruption through a two-tier systemic architecture similar to that one of ProZorro, and new opportunities for the public to control public sales.  In the framework of the pilot project implementation of bank property sales electronic system through a central database and over a dozen electronic platforms connected to it through the API takes place.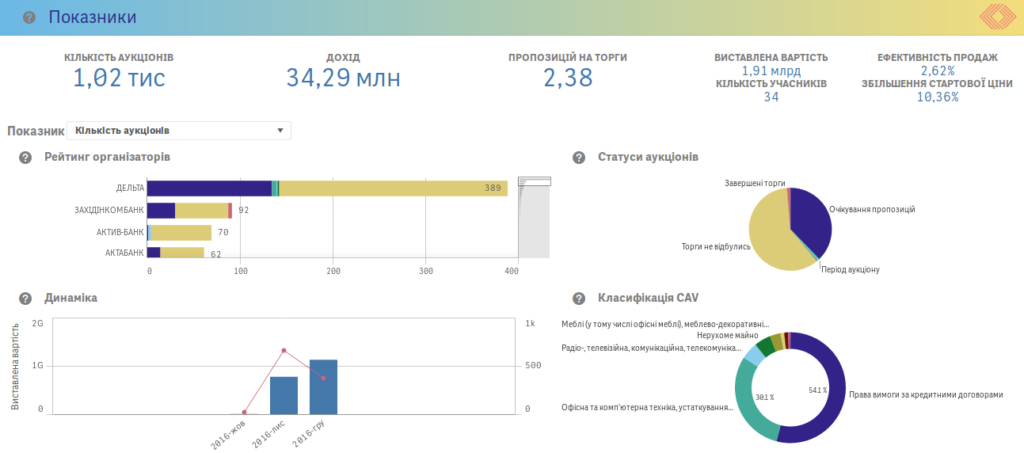 In July 2016, the ProZorro team together with the Ministry of Economic Development, Transparency International Ukraine, the Deposit Guarantee Fund, the National Bank of Ukraine and electronic platforms began work on electronic asset sales of liquidated banks. This is our first attempt to spill-over the principles and practices of public procurement reform to other sectors. In the ProZorro.Sale system the central database and bidding module are developed by a pilot project team in cooperation with Transparency International Ukraine. By the time it is transferred to the state, the system is formally owned by Transparency International Ukraine.
ProZorro.Sale is an effective and transparent sale of assets, a project to help sell the property fast, at a profit and without corrupt deals. The property concerned includes collateral (home appliances, cars, apartments) and loans (packets of claims on loans of legal entities and individuals).
Only civil society can draw conclusions about the social usefulness of ProZorro.Sale. To enable this, the system was equipped with a public analytics module.