Cleaning Courts Of Corruption
From 2015, TI Ukraine has actively been working at reforming the Ukrainian judicial system, engaging in the advocacy of efficient transformations.
In the framework of the project «Creating an Efficient Control Mechanism and the Prevention of Illegal Decision-making of Ukrainian Judges», lasting from September 2015 to May 2016 under the support of the US Embassy, about 1000 cases were analyzed under Article 368 of the Criminal Code of Ukraine (the ascertaining of the rate of illegal benefit within the body of the crime), indicated in the Single State Register of Court Decisions. Top officials cited in their speeches the conclusion from the survey that only one fifth of corrupt officials are put in prison. Influential foreign media referred to a survey.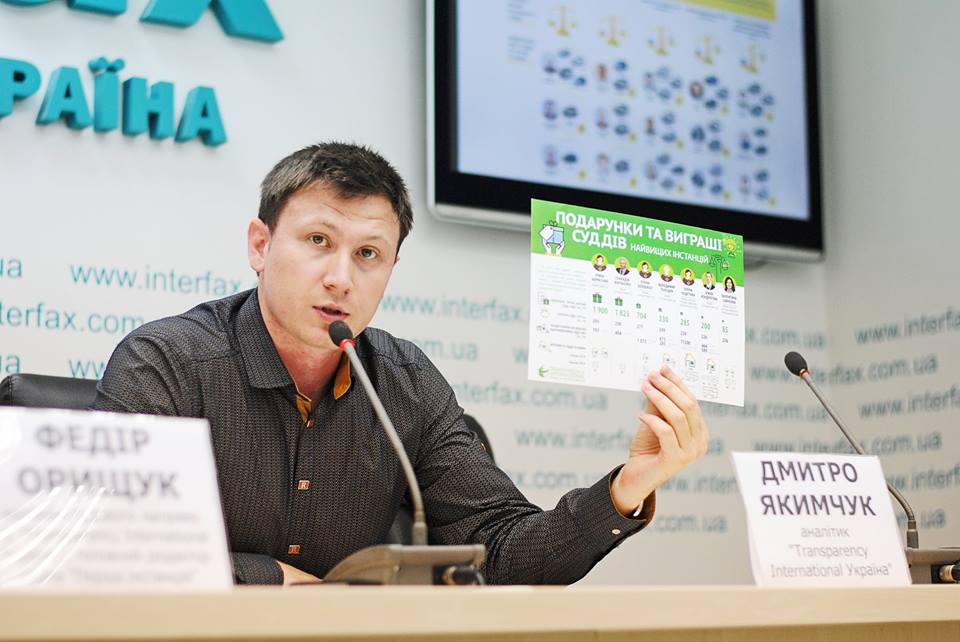 Under the project, we studied the suitability of the punishment and identity of laws application when punishing corrupt officials. News on doubtful trial decisions were published on the website «Persha Instantsiia» (First Instance) (www.1i.com.ua). Based on such publications we prepared and directed legal inquiries and appeals to different governmental agencies (Prosecutor General's Office, Supreme Council of Justice, High Qualification Commission of Judges of Ukraine), paid more attention to court decisions and demanded corresponding reactions.
Under the Open Governance Project: Beyond paper promises achieving real impact for people project, we analyzed judges lifestyles based on their assets declarations. The conclusions from studying the declarations of five Ukrainian supreme courts were presented during a press-conference «Ukrainian 'Themis': presents on millions, car parks, and unpunished corrupt officials» on September 14. The information presented at the event was later cited by hundreds of Ukrainian media, and dozens of television channels referred to it in their programs.
Moreover, the analysis of statistical information for the consequences of adoption of so called 'Savchenko' law that stipulates equating each day spent in a pre-trial facility to two days in prison was made. The data on convictions relating to crimes of sexual offences, that were later paroled influenced the position of some deputies and representatives of executive power. They demanded cancellation and change to the said law .
TI Ukraine experts actively promoted the idea of forming an anti-corruption courts. Mechanisms and terms of such courts were discussed at the all-Ukrainian conference «Prospects of Implementing Specialized Anti-Corruption Courts in Ukraine».